The Colin Kaepernick Effect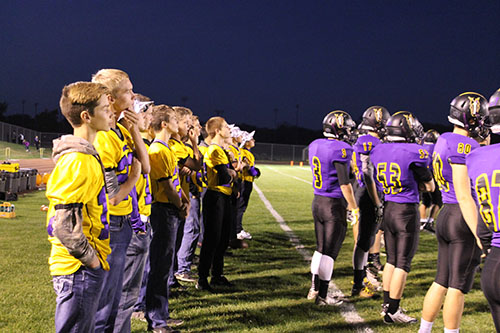 Hang on for a minute...we're trying to find some more stories you might like.
The controversy surrounding Colin Kaepernick, the San Francisco 49er's quarterback, and his decision to kneel during the national anthem to protest inequality of African Americans has fans outcrying and the NFL wondering how to address this issue. As more NFL players decide to kneel to support Kaepernick and his cause, high school football teams are starting to adopt this new behavior – aka: the Colin Kaepernick Effect. In some schools, the players choose to kneel while in other schools, the whole team knelt. Despite all of this pressure, the Bronco football team disagrees with Kaepernick's form of protesting.
Ty Straw, 12 and Bronco running back, gave his opinion on Kaepernick's protesting.
"There's an issue of racism and prejudice in the world, but I don't think it's appropriate to disrespect the flag and the national anthem," stated Straw. "I believe in the idea of equality, but I think there should be a better way of him protesting."
On the other hand, quarterback Jacob Letellier and lineman Nick Sprague, 12, both agree that kneeling disrespects more than just the national anthem and the flag.
"I have family who serve. The men and women who serve our country are heroes," said Letellier.
"[The National Anthem] represents more than just the citizens. It represents the men and women who go overseas and fight," stated Sprague.
Jason Feeback, head football coach, said he believes that by kneeling, Kaepernick brings, "individual attention to a team sport." However, Nic Madelen, assistant football coach, said he doesn't agree with his actions but, "I respect his right to do it."
Because more NFL players are kneeling, high school teams are beginning to adopt this behavior.
"I don't think high schoolers should be doing that. I feel that many pro players use their popularity to influence those who watch them," said Straw.
This idea of popularity causes an issue with younger kids. If they see their hero kneeling, along with their older brother kneeling during a high school football game, they might soon replicate this behavior.
"People want to be like pro players. Many kids look up to them and want to have those game winning catches like they do," stated Straw.
However, even though some high school teams are choosing to partake in this form of protest the Broncos will continue to stand and salute the flag during the National Anthem. Both Feeback and Madelen said they don't see our football players ever joining in on the protest.
"It's a right to protest," said Madelen, "but I don't think I could ever see our players doing that."
Time will tell how long the Colin Kaepernick Effect will last.