Anthem of the Peaceful Army: An Album Review
Hang on for a minute...we're trying to find some more stories you might like.
A year after their EP "From the Fires" debuted, the 70s-styled rock band known as Greta Van Fleet released their first LP "Anthem of the Peaceful Army," on Oct. 19. Greta Van Fleet has been making some noise, pun intended, in the rock scene this last year with some of their songs like "Highway Tune" and "Safari Song" gaining popularity on mainstream radio. However, their popularity is largely due to the fact that frontman and lead singer Josh Kiszka sounds strikingly similar to that of Led Zeppelin's singer Robert Plant. With shouts and wails like that of Plant, and guitar riffs that just scream 70s rock, it's easy to see why many people may call Greta Van Fleet a Led Zeppelin tribute band. Their newest album was absolutely crucial in determining whether or not the world of rock would still view Greta Van Fleet as a Led Zeppelin sound-alike, or as their own separate sound. I believe Greta Van Fleet did an excellent job in not only creating refreshing sounds, but also paying homage to their older style of music they seek to replicate.
The opening track to the album, "Age of Man", takes the listener through a whimsical journey of guitar riffs that cut through and stand out, while also showcasing some impressive vocals by Josh Kiszka in the chorus. The song has a very majestic vibe and also feels like something you'd listen to during a nature hike. Other stand-out songs include "When the Curtain Falls", with an opening riff that plays geniously with the bass and drums. This song really helps set Greta Van Fleet apart with an absolutely killer riff and an even greater guitar solo towards the end that really helps give the song a spectacular ending.
When I mentioned some songs paying homage to their 70s style, "You're the One" was the song that came to mind when I wrote that. This very mellow love song with a twangy electric guitar and a relaxing acoustic gives this song its flower-power feel. The melody is also joined with an organ piano in the background which was a very popular instrument back in the day.
All in all, I think Greta Van Fleet went above and beyond on an amazing and beautifully made album that has something for all lovers of rock 'n' roll. If you've ever wanted to get into the world of rock music, this would be the album to listen to as it calls upon all major elements that made rock and roll into the powerful genre of music it is today. Although the entire album doesn't necessarily set Greta apart from Led, they still did an excellent job with Anthem of the Peaceful Army and each song deserves your attention.
If you had to listen to a couple of the songs: "Age of Man;" "When the Curtain Falls;" "Lover, Leaver;" "Brave New World"

About the Writer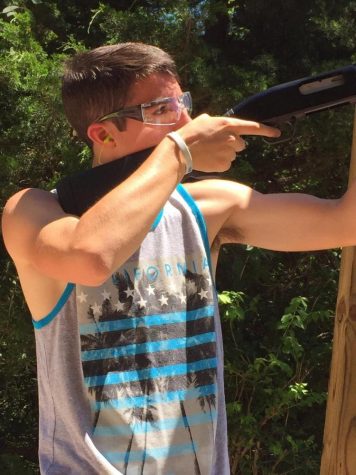 James Barnett, Cavalry Editor In Chief




Hey! My name is James Barnett and I am a senior here at the high school! I joined SPUB because I love to write and I want to get involved with...