Defying the Odds by Faith, Not by Sight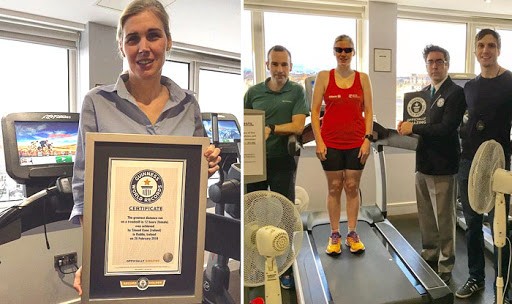 Defying the odds is not something that can be easily done. It comes down to perseverance and ambition for someone to accomplish their goals despite what people believe they are capable of.
For Sinead Kane, going against the grain and defying the odds is something she does best. Kane is a blind Irish woman who set her first Guiness World Record when she ran seven marathons to become the first blind female to complete a marathon on each continent. She also became the first female athlete to complete four marathons back to back.
Kane is headed to the Guiness book of World Records once again. After running for twelve hours straight, Kane found herself breaking yet another record. Taking place in the Clayton Hotel gym in Ireland, she ran 81.09 miles in just twelve hours. Kane beat the previous record, for a female running on the treadmill for twelve hours, by 1.17 miles.
Kane was born without irises in both of her eyes, leaving her legally blind with only five percent of her vision. After growing up as one of the few, Sinead Kane wanted to challenge the way people viewed those with disabilities, to defy the odds. So, Kane found her passion, and quite literally ran with it. She found herself with the motivation and capacity to run despite her disadvantages. Kane, found something she was good at despite the fact that she was blind. She did not let her disadvantage in sight set her back, and she refused to allow her peers to tell her she could not do something because of it. Kane found her motivation in proving others wrong, by showing them that just because somebody has a disability, it does not mean they can not do the same things as those who do not have those disabilities or disadvantages. Sinead Kane, defied the odds, twice.