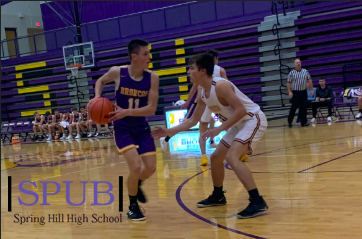 Despite the interruption of snow days which threw off scheduling, and made it more difficult for the athletes to get to practice before the tournament and during, the boys varsity team placed fifth in the tournament. Wednesday, they competed against KC Schlagle and won with a score of 71-63. Overall, the team that took the gold was Goddard Eisenhower with Olathe South coming in second after the championship game.
The Spring Hill Broncos had a few outstanding moments, but the real one that stood out lied throughout the whole game against KC East. 
"I was able to play a lot of guys, and I thought everyone did a good job contributing. Just from that standpoint, I thought we played our best thirty-two minutes throughout the whole season in that game," said Wesley Book, head boys basketball coach. 
The Broncos went 2:1 in the Spring Hill Invitational Basketball Tournament.
The loss that was suffered happened when playing against Gardner. 
"I was proud of our effort against Gardner, they got a transfer in that made them pretty good, we were competitive. We had it tied in the fourth quarter, and then couldn't hold on down the stretch," said Book. 
Tied into it all, the weather affected the tournament. On the Friday of the tournament the school day was cancelled and only the games for first, and third were played. 
"The snow days have been difficult from a scheduling standpoint, we've had a lot of missed practices due to it and a lot of rescheduled games," said Book. 
Later the games for fifth and seventh were played on the following Wednesday.
Working towards getting better already for next season, where some members are hoping for varsity, the JV team is trying their hardest to work on teamwork. "We're all good at certain different things, but we're not good at putting it together. We just need to work on meshing it together," Fletcher Pankey, 10, said.