Review: "Tiger King" Documentary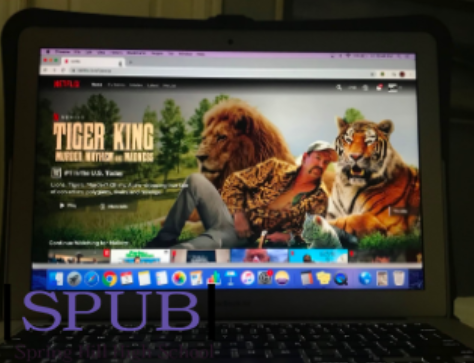 The virus that came crashing down on the world, seemingly out of nowhere, has affected everyone in their own ways. A good amount of people can agree on one thing to do in a time of crisis like this: binge watch tv shows.
One of Netflix's newest releases "Tiger King" is described as even more wild than what's going on in the world right now – which is saying a lot. Tiger King is a seven-episode true crime documentary centered on "Joe Exotic," a collector of big cats such as tigers and lions, that he kept at a personal zoo in Oklahoma. Much of the series focuses on Joe's hatred for his nemesis Carole Baskin, an animal rights activist and founder of Big Cat Rescue. Joe accused Carole of murdering her husband and feeding him to her big cats, then one thing led to another and he tried to pay someone to murder her.
I will say that the series was put together very well. Each episode left off with a cliffhanger, hooking you onto the next episode. The more you watch the series, the crazier it gets – which explains why the media is going wild for it. After finishing the series, it left me sitting with a bunch of questions; what happens next? What happens to all of those poor animals? How is owning big cats legal for your own personal benefit, when captive tigers in the U.S. outnumber those in the wild? 
While there are some laws, it is still painfully easy to own a big cat in the U.S., and this documentary opened my eyes up to the tiger problem in this country.
Carole is portrayed as the antagonist in the series for allegedly murdering her husband and possibly feeding him to the tigers, which honestly the producers persuade viewers, including myself, pretty well into believing. It does take away from the fact that she owns a big cat rescue taking in cats (from people like Joe Exotic) that grew past their cub phases and who they no longer want.
This series was meant to entertain the viewers and maybe even make them feel a smidgen better about their lives compared to the crazy people featured in Tiger King. Yet at the end of the day, people forget that this is real life and the animals are the real victims who are caught up in the human drama.