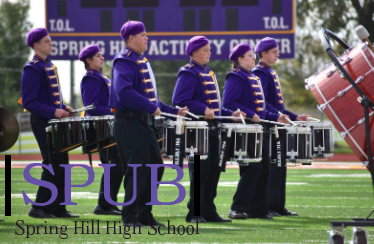 Before spring break, Spring Hill High School's band was looking forward to its yearly pops concert, a concert of fun music like Star Wars and West Side Story. But sadly it has been canceled along with everything else. This has saddened many students as it's a fun concert and they really enjoy playing the music.
"I'm upset about it because it's the really cool songs that we can have fun with and dance around," said Alex King, a clarinet player in the band, 9.I know it's a fun concert and it's really fun for the middle schoolers. And now I wont get to experience that and I don't know what it's like considering it's my first year. " Since there's no need for the music anymore the band has been practicing the music for next year's marching band show. The show is the music of Steely Dan, an American Rock duo. 
"I really like the music, it sounds cool. The percussion feature sounds great and the woodwind part is pretty fancy,"  said King.
Dan Wooge, the band director, listened to over 30 different shows' music to find the one that was best. 
"I always try to do something different that I haven't done before, and I've never done a rock show like this before."  said Wooge
The band class has assignments every week that they get graded on. They are given a certain section of the music and have to record themselves playing it. 
Similarly,  The jazz band musicians have to do the same thing but with different music. They are practicing next year's Jazz District audition music. Wooge wanted the music that the students practice to be helpful for the next school year. However, not being able to practice together as a band is not ideal. But it's the most effective way they can prepare for next year and the students are still working hard to achieve their goals. 
"I'm shocked about how well kids are doing without asking for much help. Most of the kids are able to teach themselves and that's tribute to their hard work."  said Wooge.
Ultimately as long as the band is able to have their summer camps and keep working hard, they will be able to bring home another awesome show for next year.