School Board to Collect Data to Help in Covid-19 Related Decisions
Hear the board's latest decision on how to handle Covid-19
On Aug. 24, the Spring Hill School Board conducted their normally scheduled meeting. However, there was nothing normal about the energy in the room. Students, parents and teachers filled the normally vacant audience seats. 
Community Speaks Out 
The increased audience was in response to the announcement that the school year would start with all middle and high school students in full remote due to the school board adopting the Johnson County gating criteria Aug. 10. 
Nearly 21 audience members had turned in speaker cards hoping for the chance to speak directly to the board. 
"[I organized this protest because] at soccer practice there were girls talking about the [protest] that happened at Blue Valley and how it had a good impact, so I thought we should bring it here to see what it can do," said Lexi Dillion, who organized the protest along with Emily Dowd, 12.
While the Blue Valley Board of Education did rescind their vote to follow the Johnson County gating criteria, they still started the school year in the orange zone of the Kansas Board of Education gating criteria, which they later adopted, meaning remote learning for their 6-12 student and remote extracurriculars only. 
Eventually, all 21 would have the opportunity to speak thanks to three time extensions. Parents spoke about their desire for their students to be back in the classroom, and students shared their own struggles with virtual learning. 
"For me personally, I think it's just going to be hard to focus on the computer screen," Kailey Howell, 7, said, echoing her speech to the board. 
Teachers shared their anxieties about changing course – if the board chose to vote students back to in-person or hybrid learning that evening – a mere 36 hours before school was scheduled to start. 
"The Blue Valley school district had a large group of parents come to their board meeting, and they switched their plan for how they were going to start the year based on this meeting," said Georann Whitman, president of the Spring Hill Education Association. "Well, [teachers] were a little bit nervous that our school board was going to do that in response to the parents and students that showed up to our meeting…We were apprehensive about them changing everything up with us only having a day to prepare."
Though the board did have extensive discussions regarding next steps, they refused to change plans so close to the start of school. 
"While there wasn't a zero percent possibility of getting an action item on and revoting on the criteria, it was probably not that great of a possibility. I think a lot of the board members expressed last night they didn't want to change what we are currently doing because we don't have the data yet," said Jason Winbolt, vice president of the Spring Hill board of education. 
Community effect on school board
The voices of the students and parents did strike a chord with Ali Seeling, member of the board of education, and had on Aug. 10 as well, when the board originally voted on this topic. 
"KDHE and the Kansas State Department of Education together, put together a gating criteria that does look at five data points instead. And I believe that we need to look at that. And so last night, after hearing from all of the parents, seeing all of the students, hearing from students and how amazingly brave they learn to stand up and speak, what I feel strongly about, was that to relook at this, that maybe our vote two weeks ago was premature without all the information," said Seeling. "But that didn't mean that anybody was going to change anything last night. We can't do that. We can't do that to the students or the teachers."
However, not all board members said they thought it was in the students' best interest to change course. 
"Yes, there is loud discontent. There is also a lot of quiet discontent in the form of emails and phone calls disagreeing with the loud discontent but afraid to say so publicly because the issue has become so heated. The fact is, this community is very divided on what the best path forward is," said Eric Boyle, member of the board of education. "I'm not sure the discontent really affects my opinion, but it certainly adds a sense of urgency to make sure that I am doing the research to make a decision that is based on facts and not emotion. The fact is, the health department has given guidance to Johnson County school districts to keep our staff and students safe and we should listen to that guidance. It's frustrating and people are upset for a lot of good reasons, but the frustration should not be with the school board – we're frustrated too." 
Plan moving forward
While the board members did not make changes or revote on the current reopening plan they did discuss collecting data on the first two weeks of school to further decide whether change was necessary or not. There was also conversation of forming a committee to help make these decisions going forward. 
"The plan moving forward is we are going to keep it on the board list. We are going to get updates on data like attendance and internet issues and things like that. We are going to continue to look at the data for both the counties with the possibility of forming a committee that would create a gating criteria," said Seeling. 
Many board members are happy with this plan.  
"I feel like it's an effective plan for the students. I would say that I'm always for following experts' advice and we have an epidemiologist and an infectious disease expert saying that we need to be cautious. There are a lot of things that we still don't know about how it affects students or young people. That's why I voted the way I did on Aug. 10, was to support their recommendations," said Winbolt. "For myself personally, I would love to see my [children] in the classroom. They both want to be in the classroom, they want to see their friends, hang out with their friends…I was one of the people who supported going into the classroom. But I supported going into the classroom knowing that there could be changes with them being in the classroom or hybrid or remote completely." 
However, not everyone thinks this is what's best for the students and faculty. 
"Well, I don't think it was made very clear at the meeting. It sounded like the consensus was to get school started under the current gating criteria and then revisit it after we have a few weeks of data to look at. As far as a plan for an Activities gating criteria goes, there doesn't really appear to be one. I think the board should follow the gating criteria for both academics and activities but unfortunately, I am just one member out of the seven," said Boyle. "No [I'm not happy with the plan]. The board should have listened to the recommendation of the experts, been decisive, and moved on. Now we have this idea of creating a committee to study the gating criteria hanging over our heads and keeping an air of uncertainty around everything we are doing. 
The board's next meeting is on Sept. 14. All the board members mentioned in this article wished to encourage people to get their information from the Spring Hill school district website to help curb the spread of misinformation.
Correction: An earlier version of this story quoted Jason Winbolt as having said "While there wasn't a zero percent possibility of getting an action item on and revolting on the criteria." He actually said  "While there wasn't a zero percent possibility of getting an action item on and re-voting on the criteria." This has been corrected.
About the Writer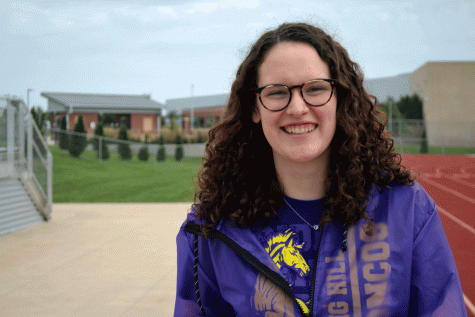 Hannah Smith, Copy Editor
Hi readers. I'm Hannah Smith. I'm StampedeNews.Net's new Copy Editor which means if you weren't already tired of seeing me around here then buckle up because...