Sept. 28 Special Meeting Board Brief
On Sept. 28 the school board convened for a special board meeting specifically addressing changes to the Johnson County gating criteria they had previously adopted for academic purposes. The meeting started at 7 p.m. at Hilltop Elementary School and didn't adjourn until almost 1 a.m. All members were in attendance. 
Plans for the meeting  
Doug Updike, president of the school board, opened the meeting by laying out assumptions he felt could be made about the entire board. He said that he felt that they all meant well no matter what their opinion was on the issue at hand and that they all wanted a clear, collaborative, and unambiguous plan moving forward. No board members took issue with his assumptions. Furthermore, he asked each board member to state briefly and clearly what their expectations were for the evening and what they hoped to accomplish. 
Many of them said that they wanted to listen to both parents and teachers. Ali Seeling, Brent Hoffman, and Nels Anderson all said that they specifically wanted to get the students back into school as soon as possible as safely as possible. Additionally, several of the board members said they wanted a clear plan moving forward. 
Public Participation
Public participants were then heard from. A majority were parents wishing to express their dissatisfaction with online learning; many told their stories about their student's struggles with online learning and mental health. One e-mail was read with similar intent, but it was said that the board moving forward would no longer read emails in open session. 
Panelists 
From here the board shifted to hearing from their panelists.  They brought in doctors, epidemiologists and mental health experts to get a look at what was actually happening. Each panelist was given time to speak about their organization or their topic in relation to Covid-19 and then they were asked questions by the board. 
They first heard from Elizabeth Holzschuh, an epidemiologist for Johnson County Health and Environment. She talked about the Johnson County gating criteria, how they made some of their dimensions and how they plan to change it in the future. 
Next they spoke to Dr. Stephanie Kuhlmann, a pediatrician and representative for Kansas COVID Workshop for Kids, who helped Kansas Department of Education create their gating criteria. Kuhlmann spole about that gating criteria while giving recommendations and sharing her experience with the Andover school district. This allowed board members to ask specific questions about how Andover deals with the multiple county situation that Spring Hill also faces. 
Next they spoke to Dr. Farah Ahmed, a State Epidemiologist with the Kansas State Department of Health and Environment. She walked the board members through the data that they would need to collect in order to follow the KSDE gating criteria as well as answering many questions about how to interpret the data. 
Finally, they talked to Tim DeWeese, the Director at Johnson County Mental Health. He talked about how they should consider mental health in all of this, but urged them not to use mental health as a reason to ignore data or scientists. He wished to congratulate them on their time spent educating and destigmatising getting help for mental health. 
Decision Made 
From there the board heard from Brad Wilson, the assistant superintendent, about different gating criterias and how they would apply to Spring Hill particularly. He also introduced them to a third gating criteria that he and Dr. Wayne Burke, superintendent, had created, using CDC guidelines that regarded how to determine the level of risk a school was at regarding Covid-19. It was this gating criteria that the school board voted, 6 to 1,  to adopt. 
This gating criteria considers the number of new cases per 100,000 people over the last 14 days, the number of positive tests over the last 14 days, and the number of mitigation strategies as the primary data points for making decisions. Secondarily, they considered the percentage of new cases over the last seven days as compared to the previous seven days, the percentage of occupied hospital and ICU beds as well as percentage of hospital beds holding a Covid-19 patient and whether or not there was a localized Covid-19 outbreak. These were all assigned different levels and each level was assigned points. The primary data points are given larger point values while the secondary data points are given smaller point values. All the point values are added up to decide how the students will be taught, on-site or virtual, taking out a hybrid option entirely. This gating criteria also introduces the idea of buffer area meant to prevent the switching between on-site or virtual learning as often. 
It was finally moved that the secondary schools move to hybrid on Oct. 8th and – should the new gating criteria still recommend it – begin in-person learning on Oct. 19 and unanimously passed . This will give the students time to learn about mitigation strategies around the school without bringing in mass amounts of kids. There was brief discussion about adding a dashboard to the school's webpage so that the community would have access to the data and the school district's decision making. 
The meeting was then adjourned.
About the Writer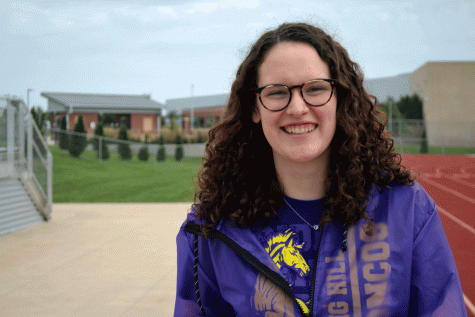 Hannah Smith, Copy Editor
Hi readers. I'm Hannah Smith. I'm StampedeNews.Net's new Copy Editor which means if you weren't already tired of seeing me around here then buckle up because...