Board of Education Abolishes Gating Criteria
The USD 230 Board of Education meeting on Jan. 25 was, in a word, charged. Around 24 people spoke in front of a room that one speaker described as "packed." These people spoke about their personal experiences, their students' experiences, and everything in between.
Speakers ranged from students to parents to state representatives, most of whom implored the members of the board to abolish the gating criteria and let kids back into the schools.
"When are you all going to decide to stop being fearful of a recoverable virus and start looking at the bigger picture? Stop hiding in the shadows and do what's best for the kids," said Emily Dowd, 12.
A lot of the students said they wanted to go back to school because they were too unmotivated at home.
"You wake up at 8:04, turn on your camera, don't get dressed, and don't get out of bed all day. We are being taught that laziness is okay," said Tommy O'Leary, 12.
Every student who stood up was asking the board to put the secondary kids back into in-person classes. Every student got a loud, long round of applause when they finished speaking. 
However, not everyone was applauded. Roy Riffel, community member, spoke about his recent formal request to have access to board member Ali Seeling's district emails. 
"Last Friday, a board member made a post on Facebook in regard to a court request I made. This post was poorly written. For some who read it, having no idea how the court process works, were lead to believe that I would be obtaining emails that many have shared that [they] would not like others to read. Let me be clear: those such stories, personal information, anything related to children, those things shared in confidence are redacted," said Riffel, before the audience began shouting at him, requiring superintendent Dr. Wayne Burke to call for a five minute recess.
This was not the only time a break had to be called: the audience disrupted speakers twice more. Once when board member Eric Boyle cited an epidemiologist with the Johnson County Health Department who said that suicide rates are going down, and again when Doug Updike pointed out that the long-term effects of COVID-19 are still unknown.
But when all was said and done, the board voted to abolish the gating criteria for the rest of the school year in a 5-2 vote. Members Nels Anderson, Brent Hoffman, Sharon Mitchell, Jason Winbolt, and Ali Seeling voted to remove it, while Eric Boyle and Doug Updike voted to keep it.
The motion passed, and secondary school will be in-person beginning Monday, Feb. 1.
Watch the full meeting here.
About the Writer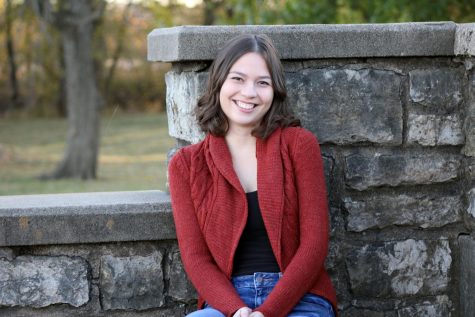 Taylor Dent, Stampede Editor in Chief
HI! My name is Taylor Dent, and this is my senior year. This is my second year in SPUB, and my first as Editor-in-Chief. In addition to being part of SPUB,...