Broncos Forever
Hang on for a minute...we're trying to find some more stories you might like.
Hours of hard work have led to this moment. A single bead of sweat drops from your forehead to your chin. You stand as still as possible, reminiscing on all of the memories you have made on this very field. You start to zone out before the sharp blow of the whistle meets your ear. You snap to attention and the rush of adrenaline fills every inch of your body as the melodies begin. This is the last time, make it the best one yet.
This was the exact sensation coursing through the minds of the senior members of the Marching Broncos Oct. 12 at their last halftime performance of the marching season. Emma McCoy, 12, Miranda Versaw, 12, and Stephen Mitchell, 12 take the chance to relive that one intense moment.
"It was very enjoyable. It's kind of a nice feeling when you've done something for so long and you just realize that this is the last time I'm going to do it, and I know that everytime I've done this, I've done it well," says Mitchell. "It's like ending a race where you know it's been painful some parts of the way through but you're finally done and over with it. It's a sense of freedom almost."
While it was an emotional experience, a sense of humor, laughter and fun was a key part of the atmosphere throughout the entire night.
"Thank god I'm never going to be sweating in that uniform ever again!" said Versaw. "But it is kind of sad because I'm never going to be a part of something like that ever again, and it was nice to be a part of a group that all looks stupid [in the uniforms] together."
Any high school group can evolve to become a second family and a safe place for high school students. Making memories is a key part of maintaining that family feel.
"I realized that that will be my last time ever marching on that field and it just made me cry because we have so many memories just being on the bleachers and goofing off and it's really hard to think of leaving it," said McCoy.
Even though the Friday Night Lights have come to a close, the lights will never die in the hearts of the performers that have basked in them every fall season. There are still more memories to cherish, tears to be shed and performances to be had. Come join the Marching Broncos Oct. 18 from 10-12:30 for the first annual SHHS Marching Festival and always remember, "Broncos forever, always the best…."

About the Writer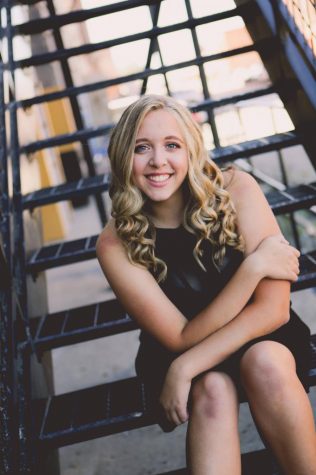 Kennedy Mounce, Stampede Editor in Chief










Hi there! My name is Kennedy Mounce and I am the editor-in-chief of the website you are currently on! I am a senior this year and I...