Shifting The Spotlight
Hang on for a minute...we're trying to find some more stories you might like.
Jan. 31st, 2019 the girls wrestling team hosted the first ever home girls dual here at Spring Hill against Fort Scott. Last week, the girls participated in one of the first ever high school duals in girls wrestling history at Fort Scott. The dual went so well that the coach had asked if our team had wanted to dual again. Coach Tucker Woofter thought what better way to represent the teams senior girls than to honor them by having their own girls dual following the boys varsity and junior varsity duals against Blue Valley Southwest.
After honoring the following seniors: Kate Landis and Ciara Roth, both two year wrestlers, and Riley Lees and Mallory Meade, first year wrestler, the crowd quickly flowed into the gym to watch the girls compete under the spotlight. The atmosphere was something you would not have wanted to miss. There was not a seat open in the bleachers of the aux gym from members of the community who came out to support the girls team in their time to show the community their moves. They had been working all season to become the best wrestlers possible.
"I have prepared to compete this season by not missing a practice and watching my film after each match to see what I can improve on after competing each time." Natalia Moreno, 11 said.
The girls started out the night taking the lead early on in the dual to shortly let the Fort Scott Tigers creep up on them in the later weight classes. The fans were roaring for the Broncos as they got another pin.
"It really hyped me up to see the gym packed and it meant a lot to have everyone there to  support myself and my team" said Raegan Stinemetz,11
As the night came to an end, it didn't end as any normal duals would, the dual ended with a tie of 36 to 36 and it came down to a tie breaker criteria. It ended up going to the 8th point in tie breaking criteria, ending in Spring Hills favor with them winning the dual over Fort Scott.
As the season comes to an end, Moreno and her teammates have a goal for themselves to work toward in the off season.
"All the wrestling girls are really trying recruit underclassmen or other girls in our grade to make the largest girls wrestling team in the state. This a goal of ours and we hope to accomplish it as a team. Last night was a night to forever remember."
About the Writer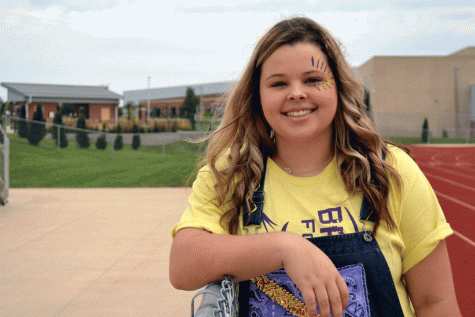 Mattie Crabtree, Bronco Editor in Chief







My name is Madison Crabtree and I'm a junior. My horoscope sign is a Scorpio, which I always look at first thing when I wake up to see...