Students Lead Protest to Return to In-Person Instruction
On Aug. 24, a group of almost 20 students decked out in Spring Hill gear and holding signs gathered outside the board of education meeting to protest the use of virtual school and share their desire to be able to play and support fall sports.
They were protesting missing out on that first day of school outfit. They were protesting their inability to pick up their new backpacks filled with this year's school supplies, get in their car and walk into the building. Many of them were protesting not being able to do this all for the last time.
"It's our senior year and we wanted to go to school and experience what other seniors wanted to experience," said Emily Dowd, 12, who organized this protest along with Lexi Dillion, 12.
They had larger goals too. 
"We are hoping to get back in school and be able to watch and participate in fall sports. Even if that doesn't happen right away, have it happen sooner rather than later," said Dillion. 
Mostly, they were protesting because the school board had decided to adopt the Johnson County gating criteria at their Aug. 10th meeting. The gating criteria refers to pre-agreed upon percentages of positive coronavirus tests in the county to decide on the type of instruction received. 
"A decision was something that the board knew was coming, we actually had put [something similar] in the reopening plan," explained Jason Winbolt, vice-president of the Spring Hill Board of Education and representative of Area one. "Prior to the adoption of the plan, we [had] asked Johnson County department of health to come up with that type of criteria [to decide] whether we were going to be in-person, hybrid, or remote…. So once we received that criteria we felt it was necessary to replace our [own plan] with this criteria from Johnson County."
After having heard from parents and teachers at the Aug. 10 board meeting as well as much discussion led by Mr. Brad Willson about both Spring Hill's reopening plan and the Johnson County Gating Criteria the board decided to adopt the criteria for academics, but not for sports and activities.
Based on the last two weeks of data, the entire Spring Hill school district, except for elementary schools, would return to class remotely. After having spent all of fourth quarter in online school, many students did not want a repeat of this and took to protesting to share this view. 
"[I decided to come to this protest because] it's hard for us to learn on zoom especially with Spring Hill's internet. We only hear every other word or every few words, so we aren't really understanding what we are trying to learn," said Addison Cheatham, 11. "We don't really feel like for the next grade or even the ones who are going off to college next year they aren't getting all the content that they need to learn." 
However, not all students are so opposed. 
"I would like to do it safely. I am all for going back to school, I want it just as much as the next person, but I want to do it safe. If that means waiting until there is a vaccine then I'm okay with that," said Sophia Burnett, 12. 
Some students even took to social media to share their opinions on the protest.
"Initially, I didn't think that people protesting would make much of a difference. It kind of seemed like they were disrespecting the school board in a way. I would never say that people shouldn't protest for what they think needs to be corrected… I'm not condemning protesting. It's just that our school board has our best interests in mind, and if anyone thinks that our teachers don't also want to go back to school then they are wrong. I just thought that maybe some people hadn't thought about how teachers feel and how teachers are also at risk," said Julia Bigus, 12.
Because of the close proximity to the beginning of school the school board did not make any changes to the reopening plan and decided school would still start virtually Aug. 26. 
About the Writer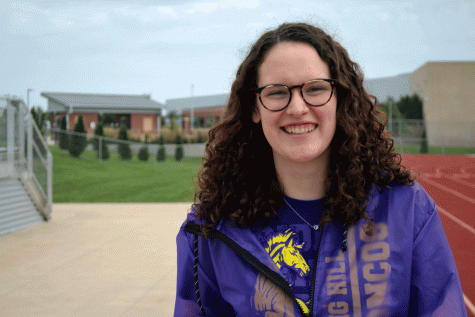 Hannah Smith, Copy Editor
Hi readers. I'm Hannah Smith. I'm StampedeNews.Net's new Copy Editor which means if you weren't already tired of seeing me around here then buckle up because...