Crumbl Cookies Review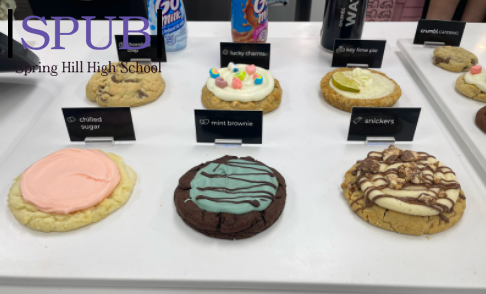 Crumbl Cookies, the nation's fastest growing gourmet cookie delivery and takeout company, recently put a new location in the Olathe area. With 75 locations in 11 states, each new shop adds to their Crumbl family. 
With their rotating menu, they serve several different kinds of cookies each week. They also have delicious warm milk chocolate chip cookies and sugar cookies that are always regulars on the menu. There are two different sizes of cookies customers can order at the shop (regular or mini). The regular size seems more like a large cookie rather than a 'regular' size, but can be saved to enjoy again later. Cumbl Cookies also transformed their top cookies into tasty ice cream flavors. Some of these flavors are Cookies and Cream, S'mores, Biscoff, Muddy Buddy, and many more.
When customers walk into the shop, there isn't anywhere to sit as of now (due to pandemic restrictions), but patrons can still see the whole kitchen and workers making the sweet treats. They then package the cookies in pink boxes with their logos on them. When customers open the box, they can instantly smell the warm cookies. Crumbl Cookies get a lot of easy advertisements from tons of people that post their cookies or boxes on social media. I often see several other people post on their stories of their cookies from the shop. 
When I was able to get Crumbl Cookies, my favorite ones were the Chocolate Chip one and the Mint Chocolate Chip cookie. The Chocolate Chip cookies would melt in your mouth, and were good after you warmed them up for a few seconds. My second favorite, the Mint Chocolate Chip one, tasted just like a Thin Mint Girl Scout cookie. 
When ordering gourmet cookies, they offer several different ways to receive or pick up cookies. They can deliver it, customers can pick it up curbside, they can ship it, or customers can go inside to order them. Crumbl Cookies also offers a catering pick up service where people can pick a time and order 50+ cookies for any activity. It is quick and easy to order off of the website and pick them up, so going inside isn't necessary.