The Most Wonderful Time of the Year
Choir Preform Concert Dec. 12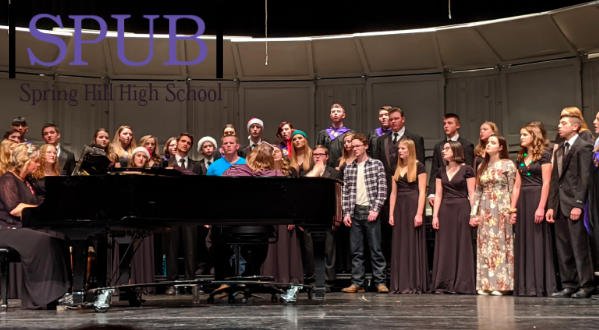 The holiday season is one of the busiest times of year for the Bronco Choir. On top of constant caroling and performances, they put on their winter concert every year. Georann Whitman, choir director, puts a lot of thought into the songs her choirs sing. 
"I listen to a lot of music. I look at publisher websites and what I think would fit my kid's voices," said Whitman. 
The winter concert is also full of traditions. Many of the songs that are sung are performed every year, and the atmosphere is much more relaxed. One of the songs that they learn every year is Carol of the Bells. The Madrigals have been singing the song every year for the past 21 years. Whitman lovingly refers to the song as "Carol of the Hells".
"Carol of the Hells. I hate it, I hate it, I hate it. The minute they don't do it well, I will yank that sucker so quick, but they do it well."
Whitman also has a better understanding of her vocalists' strengths during the winter concert, especially her freshman. 
"I'm picking in fall for choirs that I don't know. Picking for my freshmen is very difficult. I just have to do my best."
Overall, Whitman's main goal is to teach her students. 
"You know, even though we're singing Christmas music, we're still learning. I always try to find something educational in the literature that I pick. So we're still learning, but we're still having fun and celebrating the season."