A Different Season of Halftime Shows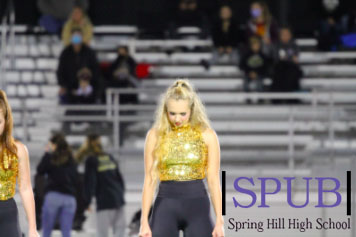 On Sept. 11 the high school hosted its first football game that students could attend. There were limitations and guidelines that everyone was expected to follow. Everyone was required to wear a mask and social distance, but a big difference was the halftime shows.
The band won't be allowed to play. This leaves only the dance team and color guard to perform, so the halftime show wasn't as long as it has been in past years.
Last year, the color guard performed with the band. This year, they are on their own.
"It's really hard because usually you can guess your spacing on what the band does, now without the band you just have to know where you are. It's really difficult." Emme Trask, 11, said.
However, some students might not think that the band was that important to the halftime show.
"I honestly think that [this year's shows] are mostly the same [as last year's]. Nobody really wears masks during the halftime show and most of the performances are the same," said Daphne Gardner, 10.
The band not being there makes some performers feel different from previous years. The shows may have been more entertaining for them to perform.
"Yeah [the performances were more entertaining last year] because if it's just the color guard it's just a little tiny group of girls, but with the band you can see us make different shapes, there are ups and downs in the music, and there are way more parts to it. It's not as good as it could do with the band." Trask said.
The band not being there doesn't only affect the mood of the performers, but the mood of the fans, too.
"I did miss the band, because it made more energy and it was more exciting and more fun." Gardner said.
For some it may differ just a little, but for others it could make the energy of the whole atmosphere. The halftime show is definitely a new experience to be made this year.