Rewriting the Playbook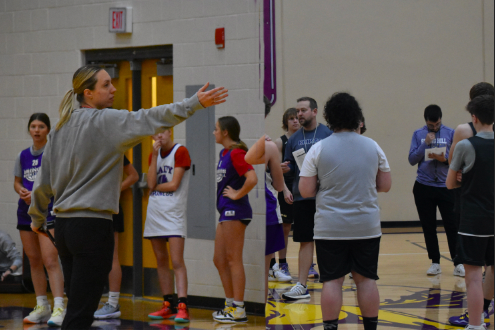 The high school had both girls and boys head basketball coaches step down last year. That meant that this year there are two new basketball coaches who have big shoes to fill. Both of the new coaches have quite different situations. 
The new girls head coach, Paige Husa, has been an assistant coach at Woodland Spring Middle School for three years before being promoted to head coach at the high school. The level between high school and middle school is different, and Husa explains how she has adjusted.
"I think I lean on my assistant coaches a lot to tell what is expected and what is the norm, I guess, so that helps me out because as a first year head coach, [and coaching] high school in general, [the assistants] helping me out has been huge," Husa said.
The boys head coach has a different experience. Connor Bechard was a head coach prior at other small high schools; he is new to USD 230. 
"It's my 7th year overall as a head coach but my first year at Spring Hill. This is a unique experience for me because the schools I taught and coached at prior were 4A schools so it is unique in that I am coaching a larger student body, so there are a lot of different things that are involved with that," Bechard said.
With both head coaches being new, they are attempting to alter the program as their own and mold it to fit their coaching styles. While Bechard is focused more on the fundamentals, Husa has her focus on having a mentally tough team.
"I'm trying to build a program based on unity and teamwork and all of us being together… Although, you're going to have those games where certain people stick out because of a stat line, you're also going to have games where kids who don't stick out on a stat line are doing all of the right things and getting hyped on the bench," Husa said.
Bechard has a longer, slower progression to make the program his own. 
"We are still a group that's learning, we have guys that haven't had a role in their life and are struggling to make those adjustments on the fly. That's kind of where our program is right now and we will be that way until we have more consistency with me being the coach and doing the things that I'm trying to do," Bechard said.
Although Bechard has head coached before, every team has different strong suits and weak spots that coaches have to work around. Bechard had to make quick changes right off the bat to have a successful season. 
"One of the things I think I have changed the most is, when you are a younger coach, you have a very set in your ways mindset of how things are going to work. Then you realize, what if you are coaching guys that aren't capable of that and they are better at this. So I think that understanding each year is going to bring different challenges and you have to be adaptable to that [is the most important].. and I think that's the biggest change that I have made as a young coach at this point," Bechard said. 
Although there are lots of new adjustments for both players and coaches this year, both coaches have a plan set in place and are trying to make the program the best it can be. Many players have experienced this big change. 
"[Husa] is really energetic, teaches us a lot more drills at practice, and we run a lot more than we used to. Our offense has also changed a lot. We used to have more set in stone plays, but now you just play basketball," Audrey Harris, 11, said.