Pitched by Softball Seniors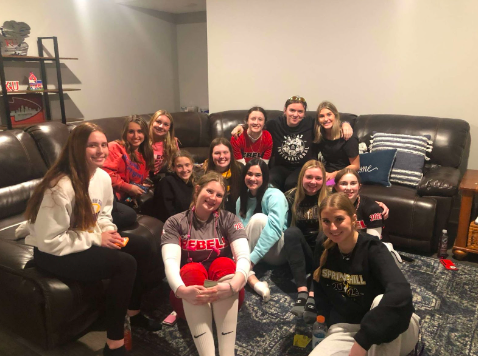 The softball team has never been high in number of seniors; but this year, they only have two varsity level returning seniors. This means they established leadership positions on the team.
"Me and Brielle are very much the natural leaders," Delaney Hill, 12, said.
Being the leaders, they have tasks different from the other girls.
"We do the stretches, we lead what we do everyday," Brielle Dee, 12, said. "We talk a lot more and speak up about where you need to throw the ball or where you need to hit it and stuff like that."
The younger girls look up to the seniors.
"I think a lot of people look up to us just because we have been here longer and most of the seniors, returning and not returning, we have the leadership skills on and off the field," Dee said.
The handful of seniors from last year may not have been large in numbers, but they didn't go unnoticed on the field.
"It's kind of hard because you have to live up to a big legacy," Dee said. "We've been to state multiple years, and we had a lot of people that had a lot of talent before us."
Aside from the senior leaders on the team are the coaches. With many different levels of experience, the team is prepared.
"I think that we have one of the best coaching staff in the state," Hill said. "Coach Golubski played in college, Coach Bachura is undefeated at the JV level, Coach Katzer has lots of experience, and Coach Phelps has been with Spring Hill for a long time. We are golden."
With the team looking to be in good shape, the seniors have high expectations and goals.
"My goals for this season would be to go to state and fight for a title," Hill said. "I also want to be League Champs for the third year in a row. I hope to just let loose and play the game of softball."