Hines' Handy Work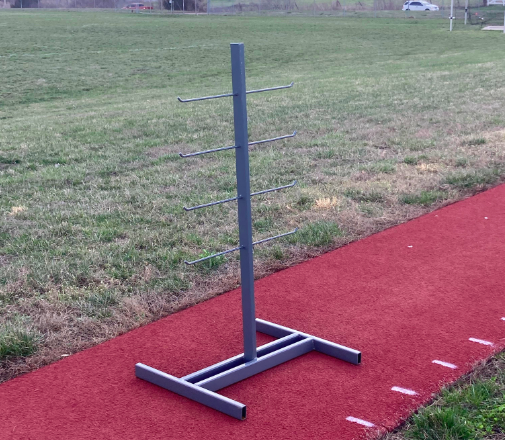 Payton Hines, 12, was given an opportunity to combine two hobbies: track and welding. Track was looking for a new pole vault holder for the team, but those range from hundreds to thousands of dollars. With that option being costly, the coach was looking for an alternative to this issue. 
"I am actually a TA for the class that I built it in. And I was looking for a project to do so my coach came up to me, [and] he's like, 'Hey, can you build this?' And I said, 'Sure, why not?'," Hines said. 
The pole vault holder is made so that the poles don't lay on the ground. Knowing this, Hines had to come up with a plan for how and when they would make it.
"So first, [I was] researching other projects where they had built it and tacked together. And I tried making a design out of that. I had to talk with my physics teacher to kind of figure out how it would balance and what would work with all the weights that would be on it."
One problem that Hines ran into was how exactly to make it. There were not any models or guides to how one is made, so they had to go a different route on how to go forward.
"So I also looked at trees that had already been built and kind of did it based off that, or pole holders that had already been built and did it based on that."
This project was time consuming and had many steps. Hines had to create the blueprints, figure out balance, and even powder coat the entire piece. Even though she did a lot on her own, she got some help from Andrew Shockley, shop teacher.
"So Shockley kind of helped me when I didn't know how to do specific things. So for example, a couple things he did [were setting] up interviews and meetings with Webco. So I would be able to powder coat projects. He helped me get the metal that I needed to build the projects."
Hines had to overcome some challenges during this project, but it was eventually finished and successfully used in the next JV track meet.
"I love getting to weld and then getting to create the product and seeing how it turned out was awesome."