After Prom Was the Bomb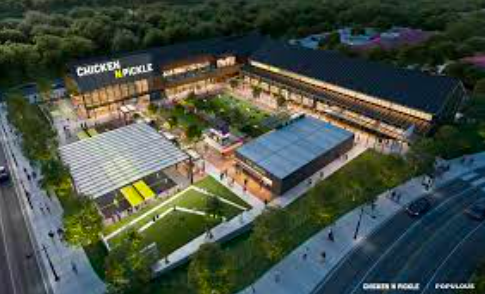 After prom is a tradition at most high schools. It was instituted to keep students from making irresponsible choices after prom was over. Students who pay to go to after prom take a bus to a fun destination lasting from midnight until 3 a.m. 
For years, after prom was held at Main Event. But this year, for the first time, after prom was held at Chicken N' Pickle, a restaurant with various outside games and pickle ball courts. The after prom attendees were blown away by the new after prom event. 
Michael Shick, 12, enjoyed his experience at Chicken N' Pickle more than he previously experienced at Main Event. He enjoyed it being outdoors and having more room to spread out. Hailey Hodge, 12, also enjoyed Chicken N' Pickle more. 
"I liked Chicken N' Pickle much more than Main Event. Main Event was so loud, chaotic and crowded. I also feel like there was so much more room at Chicken N' Pickle; so it felt like we had a little more freedom to do what we preferred," Hodge said.
The night consisted of unlimited food, outdoor games, and a large pickleball tournament. Even students who didn't choose to play pickleball were able to enjoy the tournament. The night was the last chance for many seniors to hang out as a class before they go to college; many were left with bittersweet memories.
"My favorite memory was being able to spend time with my friends before we all go off to college," Meredith Duncan, 12, said. 
Though there are chaperones and parents advising the students at all times, Hodge wishes there was more supervision on the buses. She also knows that while she chose to go to after prom and rejected the peer pressure, other students may not have, and that's why she appreciates the after prom system.
"I think after prom has a good system, although some kids still find a way to go to parties or whatever they do before, after prom starts. I think it is inevitable, but the system does it best to keep kids from making poor decisions," Hodge said.
Though this is Shick, Duncan, and Hodge's last year of being able to attend being seniors, the night was full of lasting memories, and they wish that they could go again next year. 
"It was way better than last year, and if I could go again I definitely would go," Shick said. "I wouldn't change anything."