It takes a lot of courage to decide to try out for a sport. When that time comes around, the one thing in most athletes' heads is if they will be cut. In tennis this season the increase in participants forced the coaches to cut players. 
"So I felt bad at first, but I knew it had to be done because we had over 60 people on the tennis team and only three coaches. We couldn't have that many girls so we had to reduce numbers and also had to cut some girls that might have been holding back the team from advancing throughout the season," said Haylee Whitcraft, Varsity tennis player, 12.
The news was given some time before tryouts, allowing some of the athletes to physically and mentally prepare. Though some benefited, others saw their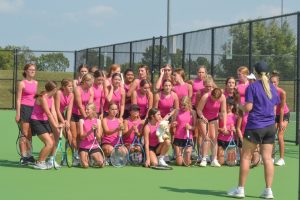 mentality deteriorate. 
"It made me a lot more anxious and insecure because I knew that the coaches were going to be watching everyone and trying to find specific people to cut.  I know that I wasn't the best player because I've never played it before, but it made me a lot more insecure," said Delaney Palmer, 11. 
Even though some were affected negatively, this also motivated and positively changed the way some of the players performed. 
"I feel like I did better once I found out that there were cuts because I wanted to show that I was good. I was better because I was competitive," said Caitlin Winebrenner, C-Team player, 9.
It may be nerve-wracking, but there is a lot to know before going into tryouts to be as prepared as possible.
"I think they just really need to show up to all the summer stuff. I think that helps a lot because Sherron will get a good range of what kind of an athlete you are and how you play on the courts with people and by yourself as well. Showing up to all the practices and trying to play to the best of your ability at practice because how you play in practice could also go into how you play in your tournaments and games," said Whitcraft.
As the years go on, the numbers will continue to grow causing more cuts to occur. Although the athletes were told ahead of time, this did not deter them and almost all recorded players tried out. Going into future seasons, many players may be nervous about being cut but decisions about who plays are thoroughly thought out and athletes should be confident going into tryouts to get the best playing possibility.