On July 4, my friends and I went on a drive to the Corporate Woods firework show. With the AUX cord in hand, I decided to play 'Many Men' by 21 Savage and Metro Boomin. The song contains derogatory racial slurs. My friend, who is a person of color, said these slurs. In my mind it was casual, because for the past two years, I had surrounded myself with people of color who had this word in their daily vocabulary. However, my white friends in the back of the car looked shocked and confused.
This was the moment I knew that I was no longer in Detroit, Michigan. 
For nine years, Olathe, Kan. had been my home, where I grew up and attended school surrounded by people who looked like me. White culture was all I knew, and the concept of a different cultural landscape was far from my thoughts.
However, in 2020, my family's circumstances forced us to move to Mich. I found myself at a school with seven-thousand students on a single campus. Stepping into my first hour class and realizing that I was the only white girl was a genuine shock. Most of my teachers and peers were different from me in both appearances and interests.
Growing up in a predominantly white suburban town, racism was casual.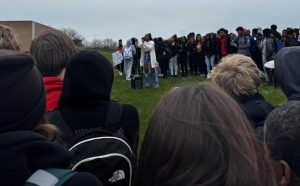 However, Detroit was different; racism is not tolerated. A video made by a student at my school with racial slurs went viral, resulting in the student moving to a different state. The student body staged a walkout protest to combat racism within the community. 
This was a wake-up call that changed my perspective on everything- from my behavior, to my choice of friends. 
June 24 I would move back to Kansas, specifically Spring Hill, a district that was new to me and notably smaller. On my first day of class, I was surrounded by people who looked like me, an experience I had not had in a while. It felt strange, even though I had grown up with this familiar setting. 
Yet, I quickly realized that things had changed. Racist jokes were being made and casually dismissed. Cowboy boots and country music were the dominant culture of the school. 
I went from being a minority to being apart of the majority, but adjusting back to the white culture I once knew proved to be a challenge. 
I discovered that cultural change is a good change, and it is essential to be open to different perspectives and experiences, no matter where life takes you.