In high school, many people look forward to getting their yearbook and looking at all the memories of that year. Being in SPUB, we spend so much time looking into other activities, many people don't know what's going on in our world.
SPUB is one of the most fun, yet stressful, classes I take. Trying to think of concepts for an entire book without knowing what is going to happen that year, while also keeping the student body happy and represented, is hard. We spend around two weeks just thinking about the theme before we start writing anything. Which just shows how much time is spent picking out colors, fonts,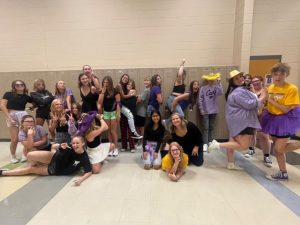 and what we want people to feel when they open the book this year.
We don't have an editor in chief for the yearbook this year, so the entire staff is making the decisions instead of one person. While we all get to pitch in ideas, it's difficult since we don't have one person to veto ideas or make a final decision. But, with 26 people on staff, at least one of us will have ideas and help us create a cohesive yearbook. 
Although we don't have a yearbook editor in chief, we have an online editor in chief this year as well as a website manager. With them being passionate about the website, there is a ton of content being pushed out every day. With two stories per person every month, we are going through lots of story ideas and people to interview, so we have to be creative in what we write about. 
When starting to write a story, reporters have to not only think about who we could interview that are involved in certain things, but we also have to think about who would give good answers. For me, it's very difficult to not interview the same four to five people for certain stories, especially if I know they would be willing to give a good interview and are interested in the story idea. 
Within all the ins and outs of SPUB, it is a fun environment. We all operate under the same stress and form bonds because of it. Well, that's the scoop on how we get the scoop!