As we enter late October and approach halloween, many families are looking for fall activities and have searched for local pumpkin patches that are great for kids and adults. With the Louisburg Cider Mill only a few minutes away from Spring Hill, many people normally go there for fall festivities. However, I was curious to try something new this year. I decided to go to Gieringers Family Orchard and Berry Farm to fulfill my curiosity. 
Gieringers Orchard is located in Edgerton, Kansas. It is located about 30 minutes from the high school, and requires passage through many gravel roads. The scenery on the drive is beautiful, especially in the fall. There were orange and red leaves on the trees lining the roadways, which created an immersive autumn atmosphere. 
 When I first arrived, I was greeted by staff that was exceptionally friendly and willing to point me in the right direction when I was confused about where to go. The first thing I did was navigate the corn maze, which had a beautiful center filled with a variety of flowers. 
Outside of the corn maze, and across the field, was a place where you could pick your own apples, flowers, and in the spring you can even pick berries. When picking flowers, everyone gets a bag in exchange for $6. Everyone is allowed to fill the bag with as many flowers as possible. The available flowers in the flower fields are dahlias, sunflowers, and zinnias. 
The flowers added beautiful scenery in the area where they were planted, which sat alongside the apple tree section of the orchard. Along with the flowers, apples are able to be hand picked by those who are visiting the orchard. This is a wonderful way to get apples for anyone who values a diet of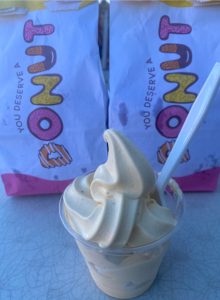 locally grown foods. 
Gieringers also reuses apples that are unsellable. The orchard staff uses these apples in an apple slingshot, which is a lot of fun. I got to test my slingshot skills with the apple slingshot, and found out that I am not as great at it as I imagined. Darn. 
The orchard has many activities other than the apple slingshot, which include an area to create giant soap bubbles, a couple of basketball hoops, a climbing wall, and even a wooden playground. These activities bridge the gap between the orchard being a place for children and for adults. Additionally, they also bring the orchard to life because there is something to do for everyone. 
Aside from the many activities that Gieringers Orchard has to offer, there is also some really good food there. Instead of the regular 'run-of-the-mill' apple cider donuts, they served pumpkin donuts, which were a really nice twist on a popular fall treat. If you are sad to be missing out on apple cider donuts, you're in for a nice surprise, because they serve warm apple cider, apple cider slushies, and apple cider slushies with ice cream in it. So, no matter how picky someone may be, Gieringers Orchard has something tasteful for all. 
All of the aforementioned treats are great for autumn, and so are pumpkins! Gieringers Orchard has pumpkins of all shapes, sizes, and colors. Utilizing the wheelbarrows that the orchard supplies to their customers' convenience, purchasing a larger pumpkin is no problem. With a system such as this, fall is bound to be as festive as it can be. 
The one thing that I found unfortunate during my time there was that it was warm outside. This is out of the orchard's control, of course, but I was missing some of the fall vibes. 
In the end, I'll give Gieringers Orchard a good nine-and-seven-twelfths out of ten. It is a beautiful place to visit and was able to keep me entertained from morning until their closing time, which is 3:00pm on weekdays and 6:00pm on weekends.