Review: It chapter 2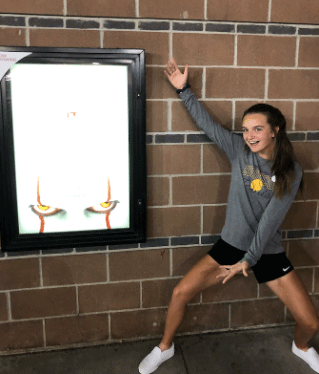 Brianna, Copy Editor
September 9, 2019
For the past two years on the publications staff, I have had one idea in the back of my mind for an article that could only be executed my senior year: writing a review of "It Chapter 2." As someone who watched the first "It" movie more times than I can count, and has also read the 1,153 page book, I flocked to the theater this week as soon as I could which resulted in me missing the first football game. Still worth it though.
I went into the theater with high hopes, and needless to say, I was not disappointed. The first detail that struck me as phenomenal was the casting. Some of the adult actors who played the original child characters 27 years later looked and acted scarily identical to the kid actors. At some points, I forgot they were not the same person. 
For me, the two hour and 45 minute run time was not an overkill. It was the only way to include all the necessary scenes from the book which made the overall movie make sense. Sure, it may have seemed to start out a little slow, but the movie would not have had the same effect if the adults instantly got back together and started fighting "It" because that is not realistic. 
As for the horror aspect, I think the scary scenes were equally good if not better than "It Chapter 1." My only critique about the scariness factor is that the horror scenes involving Pennywise himself could have been more psychologically thrilling as opposed to constant jump scares since Pennywise thrives off of messing with people – not just instantly scaring them. The comedy throughout was very well done; I laughed countless times at jokes that lightened the mood in tense situations. The actors were naturally funny while still including phenomenal acting in the more dramatic scenes.
 The ending of the movie was also very well done. After finishing the book two years ago, I could not believe how the ending was written; it was so random and made me legitimately mad. However, in the movie the end was changed to make more sense and appeal more to a wider audience which was definitely an improvement. 
Another thing I enjoyed about this movie was the attachment I felt to the characters. In most horror movies, the main characters are never remembered too well, and no one can relate to them. As the movie wrapped up, however, I'll admit I was tearing up. As a big fan of the franchise, it was hard to see it come to a close. Sophomore year two of my friends and I were so into the first movie when it came out we skipped the homecoming dance to go rewatch it for a second time in the theaters. Memories like that make me love the franchise even more, and I'm happy to say I enjoyed the second installment as much as the first. 
9.5 / 10