This year, there is a new student-run podcast called 'Rein It In' which is created by the students of Video Production 1, 2, and 3 for the student body of the high school.
'Rein It in' is more than just a podcast. It is an extension to the Studio B broadcast which is aimed to share news about the student body in video form. This is a new platform where students can tune into topics that matter to the student body.
"We wanted to create this podcast to get some sort of news out there and topics people might want to hear talked about, but by fellow students. It's just like being able to talk about things people on other podcasts are not sharing because there is no other podcast talking about Spring Hill High School," Tom Rush, 11, said.
iPads have recently become a major hot topic. The podcast will strive to capture these topics, providing students with a platform to articulate their views and insights. 
"We want to focus on topics that the student body will care about, such as iPads. They are a very controversial topic right now," Rush said. 
One intriguing angle of podcasts is the opportunity to host guests. This allows them to share their knowledge on various subjects.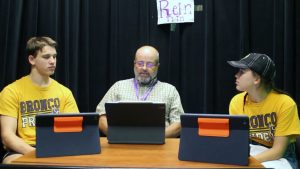 "While we can't make any promises, we will be having guests on the podcast because it is similar to doing a broadcast and interviewing someone. It's just nice to have someone who knows more about the topic than maybe we do ourselves," Caden Bartek, 12, said. 
'Rein It in' has already released their debut podcast episode, centering on iPads. Hosted by Bartek and Katelyn Breinhot, 11, the episode offers a conversation with Phil Elliott, the high school's IT director, This episode takes a deep dive into the iPad dynamics within the school, presenting both sides of the ongoing debate. 
Listeners can access 'Rein It In' via link on the SPUB Instagram. However, the team is working diligently towards making the podcast available for streaming on Spotify.