March Through Multiple Sclerosis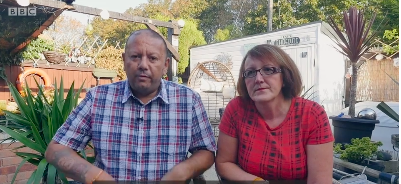 With a lot of bad news in the world it is good to look at the happier side of society. For the past ten years. Roy Palmer was in a wheelchair because of Multiple Sclerosis.  When he heard of HSCT (hematopoietic stem cell transplantation) on a BBC television program he knew he had to try it.
After looking into HSCT further his doctor okayed it and he started his stem cell transplant Oct. 2017.
For HSCT they take out the stem cells in the damaged region and treat them with chemotherapy, to kill the rest of the immune system. The stem cells are then put back and essentially reboot the immune system to work how it should. Two days after his stem cells were put back, he had a cramp in his leg. Most people would think of this as an annoying occurrence, but it was the first time in 10 years Palmer felt something in his legs.
Palmer, during an interview with BBC, said "I just started crying."
It was a marvelous piece of medical advancement. However there are possible downsides of making MS worse. The procedure itself is risky and in the long term can cause problems for the new immune system. Palmer has a hopeful outlook for the future.
"It was like a miracle," he said.
Palmer, like others, got a second chance to walk again. Since his HSCT procedure Palmer has started volunteering at his local police station. When his family took a trip to Turkey he was able to walk onto the plane and on the beach.
"Little things like that, people do not realize, what it means to me," said Palmer.