House unveils Articles of Impeachment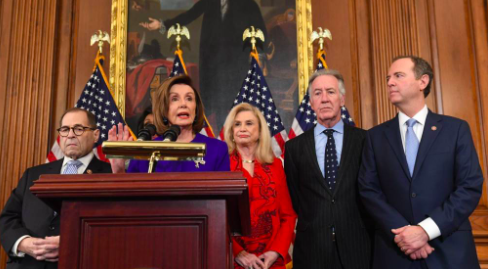 On Tuesday, Dec. 10, House Democrats revealed two articles of impeachment charging President Trump with abuse of power and obstruction of Congress. 
"We do not take this action lightly, but we have taken an oath to defend the Constitution — and unlike President Trump, we understand that our duty first and foremost is to protect the Constitution and to protect the interests of the American people," Judiciary Chairman Jerry Nadler (D-N.Y.) said. 
Nadler stood next to Nancy Pelosi as she told the audience and press that Trump had committed "high crimes and misdemeanors" by asking for foreign interference in the 2020 election and blocking the House's effort to investigate it. Democrats said that in doing this Trump had betrayed the country and his oath of office,  and tried to cover up his misconduct and ignored the interests of the nation. The Judiciary Committee plans to mark up and approve the articles later this week and a full House vote is expected today. 
Trump is once again defending his innocence despite the skepticism of Democrats and some of his fellow Republicans.
"Donald Trump is looking to survive impeachment the same way he built his powerful presidency — by assaulting facts and seeking to expand the limitations of the office he is accused of abusing," Stephen Collinson, CNN Analyst, said. 
President Trump is the 4th president to face formal impeachment inquiry. Only two US presidents have been formally impeached by Congress, Andrew Johnson and Bill Clinton. Richard Nixon and Donald Trump are the other two presidents to face formal impeachment inquiries. However, no U.S. president has ever been removed from office through impeachment.