Participation Versus Engagement
Hear How Students Are Adapting To Online Learning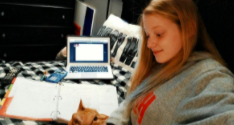 With online learning well underway, students are still adjusting to the change. Despite this, some teachers say they are satisfied and surprised with the amount of students participating in their class. 
Stephanie Hojnacki, math teacher, said, "I bet I have about 85% of my kids participating and getting homework done, getting quizzes taken and everything on time. I don't think that's true across the board."
Emily Redeker, science teacher, has seen the same thing in her classes as well. 
"I was very pleased with the turnout of students that interacted with the material I posted," Redeker said.
Despite having most kids participating in classwork, a portion of students are not engaged in understanding the material. 
Lily Haney, 9, who said she struggles without the personal connection of normal schooling.
"No, I'm not learning as well," Haney said. "It's not the same online. You can't make a connection. If you don't have a connection, you're not going to have a desire to learn."
Matthew Naylor, 12, finds the actual homework easier, but misses the atmosphere of the school.
"I'm less engaged than I was in person. Sitting in my room, not always being able to see the teacher, not having that interaction in class. It makes me less focused than I would be," Naylor explained.
Some teachers at the school are still adjusting to the change as well. 
"All of my training and education was based on in-person schooling," said Hojnacki. "A lot of where I have successes with students is in the classroom, seeing facial expressions, reading them, and I can't do that right now. 
Though it's still not the same as being in-person, one way teachers are bridging this gap is through video conferences.
"Helping kids over video is really similar, just not as easy to get the timing worked out with both parties involved."
And the students agree that it makes life a little easier. 
Naylor said, "Teachers are fairly easy to access since they've set up virtual meetings. It makes it easier having them."
There are other problems with online schooling, but not one that teachers didn't see coming. 
"Cheating has been a thought, and a conversation at science department meetings. It kinda is what it is," said Redeker. "What's most important to me is that kids are being taken care of and are doing what they need to do to get through a hard time like this.
And other teachers agree, pulling on similar philosophies as those they have in the physical classroom. 
" I anticipate cheating,[but] I pull the same card that I did during the [normal] school year. It's all about the honor system and what you want me to think of you," said Hojnacki,
Cheating is a large problem that's affecting student engagement. It's been made easy as there are few ways to monitor it. Because of this, one student – who wished to remain anonymous – has created a social media account that distributes answers to assignments, quizzes and tests. 
"It started as a group chat where we shared or helped each other with answers. More and more people wanted to be added, but there was a limit to the number of people that could be in the group chat," said the account manager.
The account has almost 100 people subscribed to it, and many people sending in their answers.
"[There's] been three people that have sent stuff to the account, and there are about 32 people on a group chat that also always turn stuff in," said the manager.
The creator made the account because they feel the work is pointless because assignments don't truly affect a student's grade. 
They said, "I've heard things like '[assignments] won't bring your grade down. It'll only go up.' Assignments and tests don't really mean anything."
Hojnacki acknowledges this, but sticks by students continuing to do assignments. 
"There is no difference to cheating happening now than what was happening when we were in the building," said Hojnacki. "Next year and the year after are still going to happen. Life hasn't just stopped because you aren't getting graded."