Death of Supreme Court Justice Ruth Bader Ginsburg Reignites Political Debate
On Sept. 18, in her home in Washington D.C and surrounded by family Ruth Bader Ginsburg, Supreme Court Justice, died at age 87 due to complications caused by her battle with metastatic pancreatic cancer, the Supreme Court announced. Ginsburg was the second woman ever appointed to the court and was a quiet force turned cultural icon for women and minority rights. However, while support and love cried out for the 'Notorious RBG' in the form of social media posts and candle light vigils in D.C., so did the political voices, reigniting a battle from four years ago.  
Trump announced on Sept. 21 that he would nominate his official pick to fill the vacancy left by Ginsburg by the end of the week. Many Trump supporters view this within his rights as president. 
"President Trump's nominee will receive a vote on the floor of the United States Senate," said Sen. Mitch McConnell, Majority leader, Ky-R, in a press release. 
However, Democrats and a few Republicans have called for the Senate to follow the president they set four years ago, including Sen. Lisa Murkowski, Ak-R. 
"I did not support taking up a nomination eight months before the 2016 election to fill the vacancy created by the passing of Justice Scalia in February. We are now even closer to the 2020 election – less than two months out – and I believe the same standard must apply," Murkowski told USA today reporters the Sunday after news broke about Ginsburg.
This is in reference to the blocking of then President Obama's pick in the March of 2016 after Justice Antione Scallia died. McConnell at the time had said that seven months was too close to the election and that the Senate should wait. Republicans, who held the senate at the time, refused to give Merrick Garland, Obama's choice to succeed Scalia, the customary hearing before the judicial committee or put it to a vote. However, McConnell claims that because the Republican party now holds both the Senate and the executive branch this is enough to change the senator's stance on the situation.
"In the last midterm election before Justice Scalia's death in 2016, Americans elected a Republican Senate majority because we pledged to check and balance the last days of a lame-duck president's second term. We kept our promise." said McConnell, in the same press release. "By contrast, Americans reelected our majority in 2016 and expanded it in 2018 because we pledged to work with President Trump and support his agenda, particularly his outstanding appointments to the federal judiciary. Once again, we will keep our promise."
Because the Republican party holds the Senate, many feel it is very likely that they will be able to push through a conservative judge leading to conservative majority on the bench, six to three. While many senators hope that moderate senators like Murkowski and others will be able to block the Senate from consenting to another conservative judge, others are looking toward unconventional ways to block the senate.
In a press conference held on Sept. 20 by Sen. Chuck Shumer, senate minority leader, Ny-D, and Congresswomen Alexandria Ocasio-Cortez, Ny-D, on the steps of Ginsburg and Shumer's shared former high school, they discussed both the legacy of Ginsburg and the possibility of her replacement before taking questions from reporters. 
"I quoted Mitch McConnell, what he said four years ago when Merrick Garland was nominated, that it should be when you're close to an election, the next president should decide," said Schumer. "We're not close to an election, we're in an election. To try and decide this at this late time, at this late moment, is despicable and wrong and against democracy. It's shoving the wishes of the hard right and the Republicans who go along with them down America's throat." 
It was during this press conference they discussed various ways of postponing the confirmation of any appointed justices, including filibusters and even articles of impeachment. 
However, it is easier than ever before for Republicans to push through any nominees in part because of former Democrats' decisions to invoke what is referred to as the nuclear option in 2013. This is a change of rules that allows the Senate to consent to presidential nominees with only a simple 52-vote majority. While the Republicans were initially the first to threaten the nuclear option, it was then Senate majority leader, Henry Heid – now retired – who implemented it to get several of Obama's cabinet members, who are nominated and consented to in the same way supreme court justices are, appointed. Since then McConnell has used the same precedent to apply this to Supreme Court nominees to pass President Trump's first Supreme Court nominee in 2017. 
"Once again, the parties flipped sides on whether the nuclear option was justified. New York Sen. Chuck Schumer, the Democratic leader, said he regretted that Reid had used the nuclear option in 2013, even though he had backed the move at the time," reported CBS news.
At any rate, while it is unclear exactly what the U.S politicians will do, it is clear that both sides are trying to use this to rally their base in these heated last few weeks before election day. 
About the Writer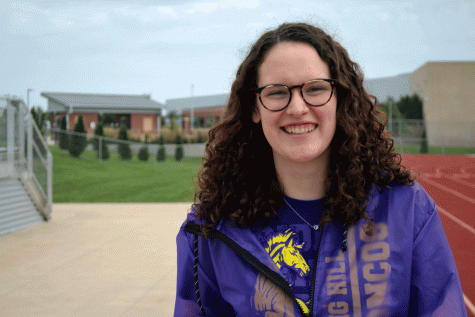 Hannah Smith, Copy Editor
Hi readers. I'm Hannah Smith. I'm StampedeNews.Net's new Copy Editor which means if you weren't already tired of seeing me around here then buckle up because...