Low Income Families Alone After Tornado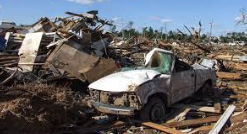 After a recent tornado in Mississippi, damage is hitting low income residents especially hard. The tornado left the home Kimberly Berry and her daughters shared in pieces. The Berry family is having a hard time recovering with all of their previous belongings and keepsakes gone.
Families across the United States deal with poverty and other difficulties due to low incomes. These problems are only magnified when tragedies occur. There are several ways others can help these families and communities begin to heal. People can send money donations, offer their time by volunteering, or donate necessities. Even small things can help when people are left with nothing.