Last week, football player, Travis Kelce, and famous singer, Taylor Swift were confirmed to be in the early 'talking stages' of a relationship. The rumors started when Kelce showed up at the Eras Tour concert in KC in July claiming that he received several friendship bracelets at the concert. However, he  wished he was able to give Swift a bracelet with his number on it. He was apparently "butt hurt" that he was unable to, as he shared in his podcast "New Heights." The rumors sped up when Swift appeared in a Kelce's box at Arrowhead stadium on Sept 24, seated next to Kelce's mother. 
I personally believe that they are dating, seeing as at the Chiefs V Jets game, she was seen cheering and clapping for the single Kelce brother. Plus, she went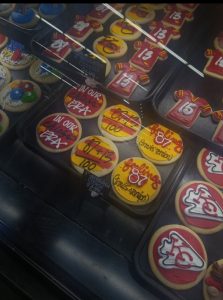 out the night prior with Patrick Mahomes' wife, Brittany Mahomes. Swift has never before been seen with Brittany. I think a double date may be in their future.
The most popular fan-base theory about Swift and Kelce is that Swift is attempting to sabotage the Chiefs to get the Eagles a win; seeing as Swift is a Philadelphia Eagles fan. The Chiefs beat the Eagles in the last Super Bowl. 
Another popular theory is the infamous numbers theory that Swifties often bring up. Kelce and Swift were both born in 1989, which is a very important date for Swift. She recently announced that 1989 Taylor's Version was going to
be released Oct 27. Plus, Kelce's jersey number '87,' added with '13,' Swift's lucky number equals 100. That theory is concocted mainly by the fans who are excited she's moving out of the entertainment industry. 
I really do think that she is dating Kelce with no ulterior motive. The number theory, in my opinion, is actually really cool. While it is extremely funny that his jersey became one of the most top-selling jerseys after she was seen at the game, I do hope that this isn't a marketing ploy of any kind.