Every year on the last weekend of Sept., Spring Hill hosts their Fall Festival at the city park. The event included many different activities, markets, and even a parade that anyone is welcome to attend. There are multiple different groups that participate in the parade, and some are even from the high school.  The color guard, being one of these groups, spent a few weeks preparing for their performance beforehand with specific routines and other practices.
"We were entertainment for the eyes, and the band was entertainment for the ears," Lucia Emerson, 11, said. 
Color guard needed to learn some specific things in order to perform for the parade, and that included having their practices align with the band. Since both groups were participating, it was important they practiced together most times.
"For the parade, we practiced marching in lines with the band on the track by the football field, and they would play their four songs that we played when we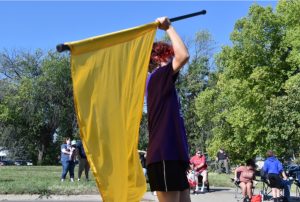 marched, and we taught new members what to do with their flags," Brayton Boxberger, 12, said. 
Despite the amount of challenges the color guard had to face during preparation, they managed to pull through together as a team in the end and give off their performance in the parade no matter how much effort it took.
"We were marching four hours on end during the band camp just to get that stuff down. Believe me, it's a lot more difficult than it looks," Emerson said.
After the parade, the color guard's performance ended up being a success in the end for the parade. With all the attending team members, they managed to put on the show they'd been practicing for those few weeks together. 
"My teammates are the best part of the sport. I love them so much and it's so just incredible to see a newer member learn a move and get it for the first time. It just fills my heart with warmth, and I love it so much," Boxberger said.
After practicing for so long, the color guard marched in the parade on Sept. 30 and successfully performed for their audience.