Wrestling season is just around the corner, but for Avery Bartek, 11 wrestling is all year. Wrestling, like anything, requires  hard work and dedication. To be a good wrestler, players have to put in work outside of season. Bartek explains which schools have the best wrestling program
 "Greater Heights and Mill Valley are the top two. They are usually filled with state champs, and state placers, all the good kids pretty much migrate to those rooms. It makes it really hard. The coaching is top tier, you might have a three time state champ as the coach teaching all the kids, which reflects a lot on the team."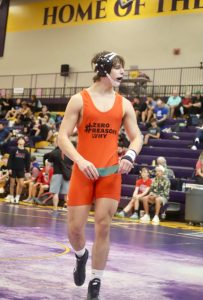 Having a good staff doesn't always mean they are better. Some coaches have different practice  dynamics that might be better for some athletes. 
 "I learn it better from school. It is more focused on us rather than the whole group because when you go to the off season they are kinda more focused on
their team, not really you. But if you do school, Woofter is more focused on you," said Bartek.
The off season also requires extra effort. Not having practice everyday is on the athletes to stay in shape for tournaments.
"I don't really cut in the summer, I just wrestle at what I weigh. ​I have to do a lot of workouts on my own. Lots of going in your own runs and stuff, and staying in shape because you do get out of shape, especially not wrestling every day. At a competing level, you have to work out every day."
 Whether in season or off season wrestling takes effort and time. Bartek spent their summer getting better, when wrestling season comes around they might have an advantage on his opponents for putting in extra work.