Homecoming is a busy week, especially that Friday night. Homecoming night,  Keanu Tiafau,12, defensive end and outside linebacker, had an eventful day. They started with normal school then to the pep assembly, football game, homecoming and the next morning the local parade. 
At the pep assembly, all the grades compete for the spirit stick. Like many students, Tiafau loves attending pep assemblies. 
"My favorite part is the hype and being with everyone else in the student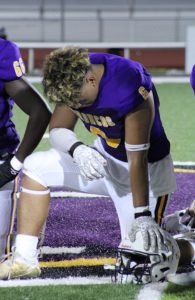 section," Tiafau said. 
Tiafau has been playing football since they were eight years old. They now have a varsity spot on the team.
"My favorite part of football homecoming night was when I got to hit the crap out of their quarterback," said Tiafau.
The homecoming dance takes place right after the football game ends. This causes some players to be late, like Tiafau. 
"I'd like there to be a way for us to get to homecoming on time," said Tiafau. 
The following Saturday, Sept. 30, Tiafau attended the Fall Festival parade. This is where all the local businesses, school clubs and sports show off. They usually decorate to advertise and throw things like candy to the little kids watching.
"I like seeing the whole town and all the little kids jumping around," Tiafau said. 
Through the weekend Tiafau was very involved with his community. Although they didn't get to attend all of homecoming due to time, they made it work.