The Orcestra's concert, on Oct. 23, Spooktacular, went FaBOO-lously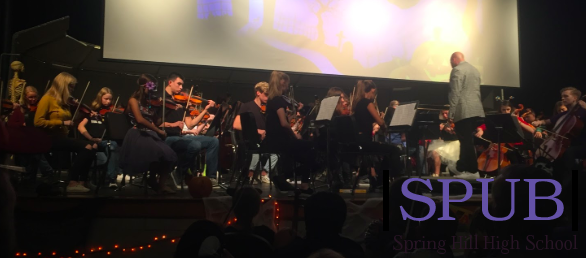 This year's Spooktacular was skele-fun and was Hallo-seen by a lot of people, the seats were full. Many students were dressed up in costumes and Halloween decorations covered the stage. They were all very gourd-eous. The Spooktacular is the first orchestra concert of the year and as the name indicates, is Halloween themed, and was performed on Oct. 23. It was started by Sarah Dorian, the former orchestra director, and has continued since then. At the concert all three of the middle school orchestras also get to perform. The concert started off with a chilling piano solo, performed by Kurtice Akin, 11. Then, the Chamber orchestra plays, and after that each different grade plays between grades, Nusret Ozakinci, the high school orchestra director, told jokes such as " How many conductors does it take to change a lightbulb? No one knows because  no one watches them." 
That one got lots of laughs from the audience. The concert was also very fun for the students.
"[The concert] was very fun and energetic," said Payton Sherron, 9.
The concert was also the debut of the middle schools' new orchestra teacher, Ronald Juzeler. 
"It went really really well…Couldn't ask for a better first concert," said Juzeler.
On one of the highschoolers' songs the orchestra had special help from Mr. Wilson. He acted as a musical GPS, giving directions to them throughout the song such as "Turn right at orchestra lane," or "At the next entrance turn right into cello lane."
The students really enjoyed playing it.
"Yeah, I loved playing the GPS song, it's so much fun," said London Hansen, 9.
In the end the concert was a huge success.
"It was spooktacular!" said Shelby Winkly, 6.