"Schoolhouse Rock Live!" Review
The musical put on by the school this year was "Schoolhouse Rock Live!", a show about a man named Tom. Tom is a new teacher stressed about his first day of teaching. He turns on the TV to relax, and starts watching a rerun of an old "Schoolhouse Rock" episode. As he watches, the characters on the screen – combined with voices in his head – come to life and help solve his problems using the "Schoolhouse Rock" songs. I didn't find the story itself very interesting to follow, it was all the individual aspects of the show that made it a good performance.  
The set was simple, just two slightly raised platforms with colorful pieces of wood attached, but they had amazing paintings that I could recognize from the Schoolhouse Rock videos.
The costumes were all from previous decades, minus Tom. I absolutely loved them. They were bright and colorful for the most part.  It felt like everyone was able to bring something a little different and I loved the way they all went together even though none of them looked identical.
I was sitting toward the front of the auditorium and I found it hard to hear what they were saying at times. This being said, they were required to wear masks, so there wasn't too much they could have done to better this. I still think there were some people who needed to project their voices more so that everyone could hear them.
The songs brought back memories from my childhood and that was really nice to me. I thought the singing was incredible. Everyone blended so well together. There was a trio that sang together a couple times that sounded perfect together. I especially loved the voice of Rowan Vollmer, 9. It was impressive hearing him sing and knowing that he was only a freshman. Interplanet Janet, one of their songs, was amazing to me. They all sang while Daley Browning, 10, skipped and danced around the stage. Everyone, except Browning, had small lights that they used throughout the song to mimic floating around in space. I loved seeing that, it was something nice and different in contrast to all the other songs.
There wasn't as much acting in the musical as there has been in the past. The songs were back-to-back, with the few lines of dialogue only existing to set up the next song. I wish there was a little more of a story to follow. There were only three major roles, with a few others taking turns singing solos. Everyone else sang and danced. I can see that this would make it harder for there to be a bigger story to follow. 
With COVID-19 in my mind, they found great ways to work around its issues, like having to stay distanced on stage and not being able to use a lot of props. The dances were entertaining even though they were never able to touch. The singing was still amazing even though they had to wear masks.
The singing, the dancing, the costumes, and the nostalgia all worked together to make a really good performance. While there were a few dull moments, it was still enjoyable. If you are in it for the music, I definitely recommend seeing this musical. I can't wait to see what is next to come for our theater department.
*It should be noted that this review is based on their last – and only – dress rehearsal and not their true performances.
About the Writer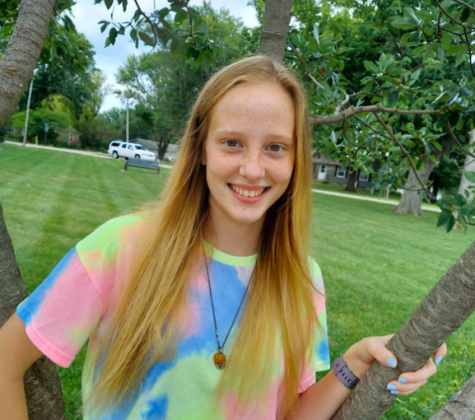 Lily Haney, Staff Writer
Hey! My name is Lily Haney and I am a sophomore this year. This is my first year in SPUB. I love to write, and after journalism last year, I knew SPUB...