Finding the Right Fit to Commit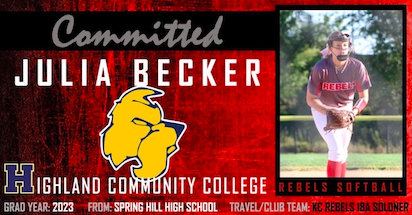 Finding the right college can be a hard task; however, looking for a college that provides athletic and academic needs can be an even harder task. Athletes have more ways to reach out to coaches now than ever before, but this could make it more difficult to get recognized. According to Scholarship Stats, only 7% of high school athletes go on to play a varsity sport in college. These tools are available to every athlete.
Quinn Thomson, 10, plays high school softball and a year-round club. She explained how she has worked on the recruiting process as a sophomore.
"I'm emailing coaches, going to a few showcases coming up, getting a lot of work done at home, working out, and doing fundamentals. I'm getting websites set up and recruiting videos put together," Thompson said.
There are many reasons why athletes choose to play college sports. 
"​​I decided to commit to JCCC because they have a really good soccer team and it's closer to home," Jacob Brueckner, 12, said.
High school counselors and coaches are another resource to help with getting in touch with colleges.
"I talked a lot with Mrs. Woofter about scholarships and transferring over things, but it wasn't finding the college, it was finding how to pay for the college," Julia Becker, 12, said.
Julia Becker committed to Highland Community College this year with a full scholarship in their teaching program and with the help of softball. The process of committing can be a difficult choice for athletes in such a short amount of time. 
"It is very stressful because the coaches have a certain deadline to commit to their college because they need to fill their roster, " Becker said.
Once athletes commit to a college, their work isn't over just yet. They have to prepare for the next level of training and continue putting in work.
"I'm going a couple more days to [work on] speed and agility because I've heard a lot from the coaches that practices are going to be all year round, so I need to stay in shape," Becker said.
Most athletes that play at the next level play on a team outside of school, or take lessons for their sport. Club sports are another way for recruiters to recognize athletes. 
"I practice four times a week and then play on a really competitive club team," Brueckner said.
College athletes are required to manage a lot of this on their own. This teaches student athletes to advocate for themselves and go after something they are passionate about.