Go See The Variety Show!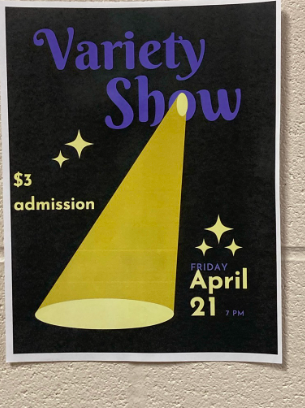 On Fri, April 21, the theater department will present their Variety Show. This show will feature 13 different performances ranging from poetry to fight scenes. The talents include: Kaitlyn Ramey, Brayton Boxeberger, Dean Mulder, Zander Easley, Alex Kaljumaa, Faye Dent, Cooper Olson, Kyler Shirley, Quorynn Harris, Jadyn Rainforth, Brynna Pierson, Zachary Vasser, Trystan Wood, Henry Seitz, Tom Rush, and Aidan Wycoff. This will be the first Variety Show since 2019.
The theater department puts on the Variety Show for several reasons.
"It's a way to show everyone what you've been working hard for, what you're talented at and also it's just a way to have fun and enjoy other people," Kyler Shirley, 10, said.
For some students, the Variety Show is an opportunity to do something goofy and lighthearted. For others, it is a chance to share something that is special to them.
"[The Variety Show] is the first time I've really been able to show my poetry to people. I've always just written it and kept it to myself," Faye Dent, 11, said.
There are a number of soloists, duets, and small groups that will perform. Dent shares what group they are looking forward to.
"I'm really excited to see Kaitlyn and Brayton's act because they are singing Popular from Wicked," Dent said.
The show starts at 7 p.m. and tickets are $3 at the door. The theater department anticipates an exciting show and welcomes everyone to come. 
"Come see it and support the theater department!" Dent said.