Reaching Relaxation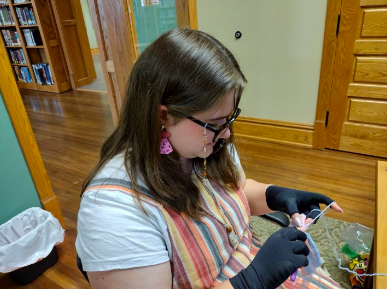 Hobbies provide an outlet for students to express themselves and to do what they enjoy outside of school expectations. Avery Feeback, 11, paints her nails as a form of relaxation from a stressful week of school and sports. 
"Painting my nails is like therapy for me. I sit there and I watch a movie and do my nails. It's like a reset that makes me feel put together," Feeback said. 
Feeback first started doing her nails last year for several reasons. 
"For one, I save money. Two, it lets me do what I want, so that I don't have to depend on someone else to execute what I want. That way I can also fix them when and how I want to," Feeback said. 
Adrianna Godsey, 10, started crocheting in September. of last year. For Godsey, crochet is a hobby that allows her to connect with her friends and meet new people. 
"My friend took me to a crochet club. The instructor taught me the basics and I've stuck with it…it's basically a club where we can all come together and share what we are working on," Godsey said. "There's also somebody there that can help if I need it and it's just a really fun experience to share what I've made."
Hobbies aren't just for entertainment, they can provide valuable lessons for students who are willing to improve. 
"At first crochet took me a lot of patience. Finding the tension, what I'm good at, and what yarn I like to use. Once I got into crocheting it was pretty easy…I've learned about time and patience through crocheting. It's kind of like trusting the process, especially when you have different colors, stitches, and eyes," Godsey said. 
Appreciating the final crochet project is what Godsey looks forward to most when crocheting. 
"I think seeing [the project] come together is my favorite part of crocheting. Starting out with a strand of string and then it becoming a pillow, stuffed animal, or even a bag…I feel very happy [while I'm crocheting]," Godsey said. "It's so much fun, especially when I'm close to the end of a project and do the final slipknot. I just look at it and think 'I've spent all this time working on this and look how beautiful it is'."