Over the weekend, you can often find me in a coffee shop somewhere in the KC area. This weekend, I went to the new location of Prefix coffee in Midtown. Prefix is a family owned business with three locations around the area. Their menu offers a variety of coffee and  non coffee options, breakfast,  pastries, and house made syrups. 
I got the spiced butterscotch latte, which is espresso, milk, butterscotch syrup, and the perfect spice blend to bring out all the flavors of fall. The ratio between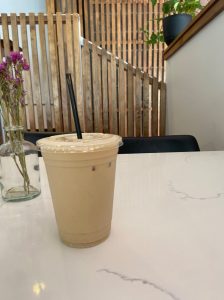 coffee and sugar made the perfect mix for a latte. The syrup really grasped the fall feel and the taste of the butterscotch left a buttery taste but wasn't too overpowering.
The service was helpful and nice. When I walked in, I was immediately greeted with a smile. The workers were more than willing to answer questions. The drinks came out quick but weren't rushed. The whole vibe of the place was comfy and relaxing. There was lots of privacy and I didnt feel like I was in the middle or that people were watching me, which is a very good quality for a shop to have.
Overall, I give Prefix coffee a four out of five stars. I think if they had more food options, it would be a solid five stars.