As seniors face their last year at the high school, it is common to get as involved as they can while it is still possible. This can be difficult to balance because many seniors have jobs, activities, and families to turn their attention to. This can create  stress for some seniors, but at the end of the day, everyone may react differently to the excitement involvement brings. 
Adiel Garcia, 12, has been involved in many different activities over the past four years; they have been involved in debate, forensics, scholars bowl, theater, National Honors Society, tennis, and environmental club. 
"I usually like to stick to a schedule or time management [to keep a healthy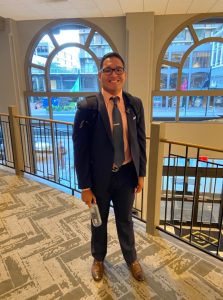 balance of involvement in my life,] Garcia said. 
They explain that different activities have different demands of attention. 
"Environmental club doesn't really require that much [attention] outside of school… but in debate, you may have to find a lot of evidence [outside of class]." 
Along with being heavily involved in a variety of extracurricular activities, Garcia has also seen a lot of success throughout their involvement in debate and forensics, in which he has attended several national tournaments. Garcia has been to nationals in congressional debate, along with other acting events. With these successes, Garcia explains the importance of remaining humble.
 "I usually don't like boasting about myself, because I think that if you're good at [your activity], people will boast for you," they said."I don't need to be bragging about myself. There is always room for improvement. There is always room to just do better." 
As Garcia continues to accomplish many things in and outside of the classroom, he stresses the importance of taking a step back and decompressing. 
"I would consider myself a very stressed individual because a lot of things are going on in terms of what I want to do when I get older, and making sure my grades are good. I usually set aside time to just gather my thoughts." 
Garcia explains that "drinking coffee" and "reading" are also ways that he takes his mind off of the stresses of life. 
Whether it is the expectations of where one's grades should be, or how someone performed at their last sports event, high school will find a way to be stressful. Garcia's reaction to the stress of being involved has shown that through remaining humble, and taking it easy every once in a while, success will find its way.