Every Wednesday night, a lot of students at the high school gather at their different churches or religious buildings to play games, worship and praise by singing, and learn and connect to their religion. This kind of weekly event has helped students make friends and grow in their faith. 
"It's just a really good environment and it's like a safe space; it's a time where if anything is bothering you you can really talk to God about it, and it's just a really fun night," Addison Lightcap, 10, said. Lightcap attends Switch at Life Church. 
Some students are unable to attend church with their families on Sunday. Wednesday nights have been a great way to grow in one's faith and find a community. 
"I've definitely grown in my faith. I feel like every week the message just hits a
little harder, and I've made a lot of friends there," Lightcap said.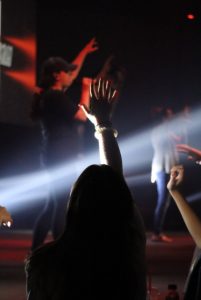 Having someone to go to is an important part of life. 
"I've had people help me out through some different things like a pastor or other friends," Caleb Hammer, 10, said. Hammer goes to Legacy Christian Church. 
Being involved, not just in school, but out of school is a great way to make connections. 
"I'm not on the worship team but I'm trying to do something with all the highschoolers where they help with the little kids on Sundays," Hammer said. 
Students are bound to make memories in an environment like youth group. 
"One day we did a water balloon fight and it was at sunset so it was really pretty, and then they started doing fireworks, so it was just a really fun, memorable night," Lightcap said.
Being in the middle of the week, students can be busy.
"It's on Wednesdays nights so some people can't go because they have practice, and sometimes if homework's just heavy it's really hard to get there," Lightcap said. 
Students in any high school are trying to find their people, or community. Despite having its downsides, youth groups have been a fun way for some Broncos to achieve that.