As a student athlete, students often wonder if there are enough hours in the day. At some point they can begin to wonder, 'is it worth it?' For Shelby Winkel, 10, it definitely is. 
"I feel like when I go home from school I'm extremely tired, and having sports at the same time can be exhausting, but I think it's also worth it," Winkel said. 
For Winkel, being able to balance school work and sports can be difficult at times.
"[Volleyball] takes a good portion of time, since usually practices are [around] two hours. When I get home I'm tired and I lack focus on what I'm supposed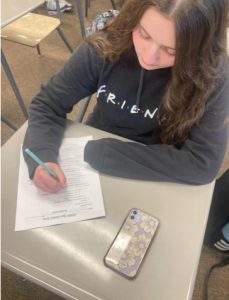 to be doing school-wise, but I get it done," Winkel said. 
Going to practice after school and having other commitments to attend when it would be easy to just stay home and lay in bed sleeping, is another thing that can be difficult for student athletes. 
"Sometimes I just wanna go home and not practice, but no matter what I know that after the season is over I won't be on the court again for awhile, and I'll have to wait awhile to play again." 
Winkel knows that to them, the commitment of being a student athlete is worth it. 
Winkel also knows that the ability to balance sports and school work is not only important to them now, but important to them in their future.
"Knowing that I succeeded in all my school work and athletics [and that fact that] I can succeed in doing multiple things at once , gives me hope that I can do anything," Winkel said. 
When asked, 'is it worth it?' Some athletes might think no, but Winkel always finds a way to focus on the positive, and because of that, they know it will be worth it in the end.