In high school, it is hard for people to know everything about a student. Ava Crabtree, 11, has one hobby that not a lot of people know about; ceramics. Crabtree started ceramics their freshman year, although it was not their first time hearing about this elective.
"I think it's actually because my brother, Jacob, took it. He took like one or two classes in high school and I was like, 'Oh, I'm going to be just like my brother, and so I'm going to take it.' But then I realized, I love this. And I just kept going with it," said Crabtree.
Ceramics is a difficult elective to take and finding the love for it takes time.
"I just love it. I can just be whoever I want to be within it. And I can create what I want. I just have freewill to just make whatever I want. And like, if I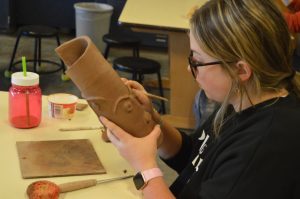 wanted to make an entire dinner set for my family, I could."
There are moments where ceramics can become hard, especially when the piece does not turn out the way it was intended.
"It definitely stresses me out when I do mess up. So I'm like, Okay, well, great. I at least mess up once or twice a day anyway."
Although ceramics has its ups and downs, it helped Crabtree with some important life lessons that have helped them throughout high school.
"You have to make sure everything's perfect and put together well, because if you don't wedge the clay well enough, it could explode in the kiln, and there goes a whole thing. So I feel like it teaches you to be patient and that not everything is like the biggest deal."
Crabtree added, "I have to understand the kiln when we fire things, it takes so long. But once it comes out, it's beautiful. Life is just a candle and then you have to wait for it to get fired."
Taking ceramics has helped them also realize that this is something they could pursue in the future as a career.
"That's my biggest dream, to open up my own studio or be a teacher even. But it's just so hard to just get started even. But I feel like if I really wanted to, I'd be able to do it."
Crabtree is continuing their ceramics career and is planning on taking the elective their senior year. It has taught them many life lessons that they are able to take with them beyond high school and as they try to achieve their dream of doing ceramics in the future.