This year is Rylee Higgs' second year at the high school as well as their second year in the same school as their mom. Stephenie Higgs, science teacher, has been teaching for 21 years. 
"I love my mom, she is an amazing teacher. I visit her every passing period and say hi to all of her students," Higgs, 10, said.   
Having a parent who works at the same school you attend can affect the dynamic of the relationship. Higgs talks about their experience with a positive view. 
"It impacts our relationship positively because I go to her room and complain to her about my problems. My mom and I have gotten a lot closer because of school."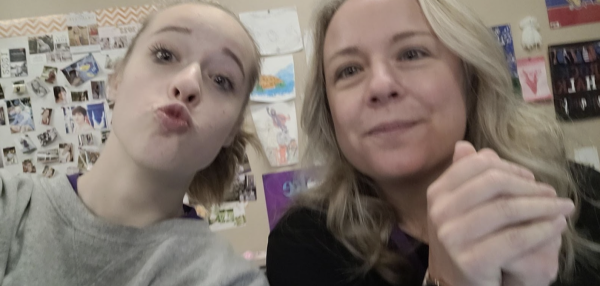 They explain that they are able to know some of the teachers before they even meet them. This is a fun benefit that comes with having a parent who is a teacher.
Higgs lists their favorite things; such as, getting help when needed, having someone they love to go visit during the day, and eating snacks in their mom's room. There are also some downsides that can occur.
"My least favorite thing is when she is mad at me and then I have to go to school with her. She's already mad at me and then she's mad at her students, so it can be bad."
Being linked to a teacher can cause peers to create their own idea of who you are. Higgs has experienced stereotyping and uncomfortable comments because of this.  
"A con is the stereotype that it can come with it. There are people who say things like 'oh you're supposed to be good, your mom is a teacher'."
Despite the negatives that can come with attending the same school that their mom teaches at, Higgs loves how it strengthened their relationship and looks forward to sharing their high school years with their mom.