The high school offers a large variety of electives that students are able to choose from. These electives can either be taken as a general interest of a student or in order to help become better prepared and familiar with what they wish to do in the future as a career. Photo imaging one, the photography class, seems to be a popular class for students to take on. Ashley Fuel Tyner, 9, is one of those students who decided to take on the class this fall to learn more about photography.
"I joined photo imaging because I was very interested in taking pictures of the sunset and other things in middle school, and I thought it'd be really cool to join photo imaging to be able to use a camera and some other technology," Fuel Tyner said.
A handful of electives start out with a basic semester course to become familiar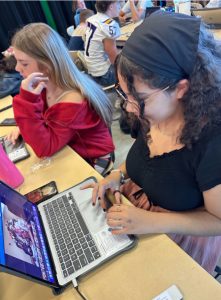 with everything in the class, but there are options to take advanced versions afterwards next semester or even the following couple years. Students tend to enjoy taking the class due to its flexibility and widespread creativity.
"I feel comfortable with the schedule because [Anna] Manning made it to where we have the individual workdays and such like that now, which makes me feel a lot better because I like having days where I can just work on what I need to with no pressure," Fuel Tyner said.
As much as the class is flexible, there are also a few challenges that the students must overcome, rather than asking for help or finding a solution. Fuel Tyner had an occurrence of a visually uninteresting classroom, so they improvised.
"I took photos the other day of a class that wasn't very visually interesting, so then I figured out another classroom that would have something interesting the next day. I just went around trying to figure out things I could do," Fuel Tyner said.
With both the few challenging moments and flexible work times, the class serves as an understandable course to assist those interested in the path of photography. The class can be taken by any and all students for up to four times. 
"I would honestly recommend it to everyone because it's very fun, and it kind of helps you get out of your shell if you don't like going out to places and stuff like that," Fuel Tyner said.
Overall, a good handful of the students who take the photography class seem to enjoy it, and Fuel Tyner would recommend for anyone to take it as an elective.